White Sox's Buehrle throws perfect game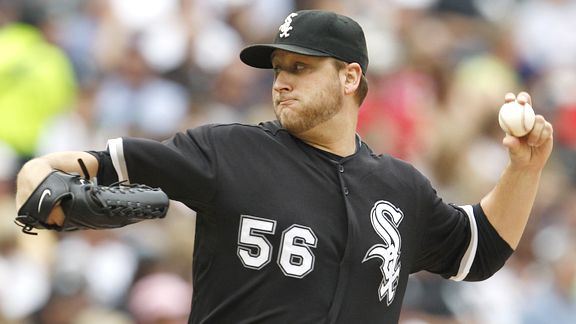 With a ton of help from centerfielder Dewayne Wise, White Sox's starter Mark Buehrle threw a perfect game Thursday against the Rays. He already had a no-hitter on his resume and the perfect game came after throwing 116 pitches and striking out six.
Wise (who was a defensive replacement that inning…nice work, Ozzie Guillen) made the play of the year in the ninth inning, racing back on a Gabe Kapler shot to left-center that looked like it was going to be a home run. Wise leaped up against the wall, robbed Kapler of the dinger and then hung onto the ball (while falling to the ground) barehanded after it popped out of his glove. If you haven't seen this play yet, do yourself a favor and turn on ESPN News and check it out, because that catch is going to be talked about all season.
It's amazing how much Buehrle's perfect game parallels Giants' starter Jonathan Sanchez's no-hitter from a couple weeks ago. Sanchez had a no-hitter going into the ninth (he missed the perfect game after Juan Uribe booted a grounder at third) and after retiring the first batter in the inning, allowed a near-home run that centerfielder Aaron Rowand had to snag while crashing into the wall a la Wise.
Another similarity from the two outings is that catcher Eli Whiteside had never caught Sanchez before his no-hitter. Ironically, Ramon Castro had not caught Buhrle this season before his perfect game. One more: both guys did it in their home parks. Pretty cool.
What a phenomenal accomplishment from one of the more steady starters of his time. Jayson Stark of ESPN said it best (and I'm paraphrasing here): 'Buehrle is what pitching is all about. He mixes his pitches so well and he doesn't try and strike guys out – he pitches to contact.'
Well said. I'll add that this guy doesn't throw 95 mph (he doesn't even throw 90 mph on most occasions), but he just knows how to pitch. He works the count, he works at a fast tempo and he's incredibly smart. He's been solid his entire career and young pitchers could certainly learn from this guy.