Cutler already alienating fans in Chicago?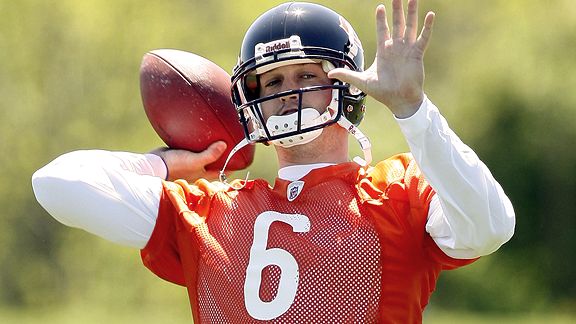 David Haugh of the Chicago Tribune had this interesting tidbit about Jay Cutler in his latest column:
I know Cutler already has alienated enough small pockets of fans at various appearances in Chicago to produce a flurry of furious e-mails, such as the one from a guy at Wrigley Field last week who criticized the quarterback for waving off autograph seekers. "His lack of appreciation for fans will be his undoing in Chicago," Glen. R. wrote me.

We'll see, but if Cutler experiences an undoing in Chicago it will have more to do with the people on the field than in the stands. Generally speaking, the same folks complaining about Cutler's insouciant behavior will be cheering him on his first 350-yard Sunday.

Sure, Cutler could do himself some favors by exuding more charm or suffering the occasional fool with a little less outward disdain. But those who have been Bears fans for two decades, or two generations, need to remember Cutler has been here for two months. There will be — and has been — a degree of culture shock. Denver isn't Chicago. Eventually, Cutler will adjust because he will learn life is easier that way in this tradition-rich football city. If he doesn't, then he will get what he deserves.

But it's too early in his tenure to predict that.
Cutler isn't the first athlete who shunned autograph seekers and he won't be the last. Unless it's obvious they're being outright pricks to fans, I try not to let it bother me when athletes don't sign because we have no idea what kind of schedule they're on. For all we know they're running late as it is. Sure, it would be nice if they signed autographs until the last person is gone, but that's not reality.
As far as Cutler is concerned, Chicago fans are going to embrace him if he performs well. And actually, they've already embraced him because they've been dying for a quarterback for decades. As long as he performs, it's going to take a lot for him to ruin his image in Chicago. He's safe for now – I don't care what a handful of people say.