Has the Bears' identity changed with Cutler?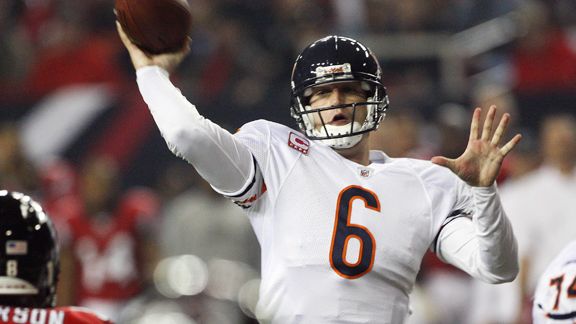 The identity of the Chicago Bears has almost changed overnight.
The offseason acquisition of quarterback Jay Cutler has suddenly transformed Da Bears into a team that relies on the pass to set up the run; for decades, it used to be the other way around. In fact, Chicago fans had been waiting for a strong-armed quarterback to aid their ground game, not hide its weaknesses.
Through five games this season, the Bears have attempted 172 passes to only 119 rushing attempts. They're throwing nearly 60% of the time, which, for the Bears, is unheard of.
On Tuesday, Cutler and the Bears agreed to a two-year extension that will keep the quarterback in Chicago through 2013. Does the move signal the end of the Bears' philosophy of being a run-first team? Given Cutler's gun-ho mentality as a passer and Chicago's sudden desire to throw the ball more, one would think that Chicago's smash-mouth days are over.
But a closer look tells a different story. The Bears are currently 27th in rushing yards per game this season, averaging 89.8 YPG. They haven't run the ball much this year because quite frankly, they can't run the ball. The changes the Bears made to their offensive line in the offseason haven't amounted to much as Orlando Pace, Frank Omiyale and the rest of Chicago's O-line has failed to gel. And while people are quick to assume running back Matt Forte is suffering from the dreaded sophomore slump, the fact of the matter is that the line hasn't been opening up holes for him like they did last year.
So are the Bears becoming more of a pass-first team with Jay Cutler? Yes, but that's only because their O-line is under performing. If the line starts opening more holes for Forte (who seems to be tiptoeing into holes more this season because of the amount of licks he's been taking), the Bears will undoubtedly become the balanced squad that they envisioned when they traded for Cutler.
Until then, don't expect the Bears to stop putting it in the air. And as long as they're throwing, offensive coordinator Ron Turner better start calling more vertical passes in order to take advantage of Cutler's strengths.