Jamal Crawford heading to Atlanta?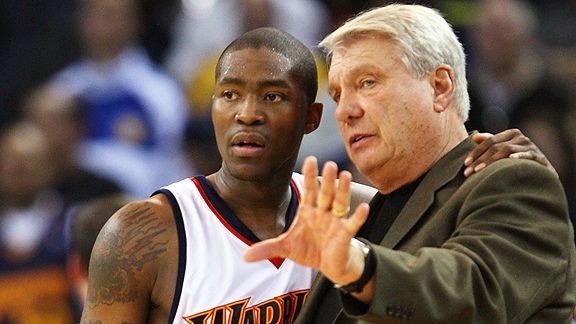 Marc Stein's sources say that he is.
NBA front-office sources say that the Warriors and Hawks will soon complete a deal sending Crawford to Atlanta for Acie Law and Speedy Claxton.

Warriors coach Don Nelson made no secret of the fact that Crawford wasn't in his future plans. By shedding Crawford's longer contract and by virtue of insurance payments that will cover some of the costs of Claxton, Golden State would secure a decent measure of payroll relief with the trade.
Crawford is definitely a shoot-first point guard, as evidenced by this study I did a few weeks ago, though I think he's better suited to playing off the ball. His shot selection is suspect (career 40.4% from the field), but he is a prolific scorer. In fact, he has averaged at least 17 points in each of the last four seasons, but he regularly takes 15-17 shots per game. Is it possible to get him to rein in his attempts and be a little more selective in his attempts? I'd rather he average 14-15 points on 10-11 shots.
How does this affect Mike Bibby's contract negotiations? Acie Law wasn't working out, but now that Crawford is on the roster, the Hawks have a backup plan in case Bibby's expectations are too high. Bibby takes better care of the ball, but he's a shoot-first point guard as well, so a reined-in Crawford wouldn't be that much different.
Crawford's contract runs another two years at the tune of $19 million, so while the fiscal impact for the Hawks in the short term is minor, they are giving up about $10 million in projected cap space in 2010 by making this trade.