White Sox acquire Peavy from Padres in exchange for four pitchers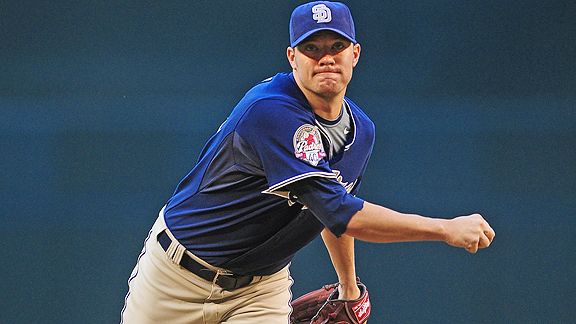 The White Sox traded for Jake Peavy again, only this time the deal actually went through as the former San Diego starter agreed to waive his no-trade clause. Chicago will be on the hook for all of Peavy's contract, which means they'll pay him $56 million by the end of 2012 and even more after that if they agree to pay his club option in 2013.
In exchange for their one-time ace, the Padres acquired left-handed pitchers Aaron Poreda and Clayton Richard, as well as right-handers Dexter Carter and Adam Russell. It's essentially the same deal that the two teams agreed to in May, although this time the Sox included Richard, who wasn't in the original offer.
According to Peavy's agent Barry Axelrod, the ace signed off on the trade because there was no guarantee that the Cubs or Dodgers (his preferred teams) would have made a move for him in the offseason.
This move is surprising on the part of the White Sox seeing as how Peavy probably won't pitch again the rest of the season, yet Chicago is still on the hook for all of his salary. Then again, with Peavy under contract through 2012 (and possibly 2013), GM Kenny Williams clearly made this move for the future (albeit at the risk of surrendering a massive amount of pitching depth).
You knew Williams wasn't going to stand pat and let the deadline go by without making a move and he certainly one-upped the division rival Detroit, who acquired starter Jarrod Washburn today. He has always been a bit of a gambler and if Peavy returns to full health and makes the Sox a winner (whether that means a World Series winner or otherwise), maybe we'll look back on this trade and commend Williams for making such a bold move.
That said, this was a massive risk by Williams. For starters, there's only about a 50-50 chance that Peavy will pitch again this season. So not only is there a decent possibility that the Sox won't get any use out of him this season, but they also paid a higher price for him now then they did when the deal didn't go through in May because they included Richard.
Even though they gave up their ace and a popular player, San Diego and their fans have to be happy with the haul they got from Chicago. It's not like the Padres had to sweetener their offer in order to get Richard too; they're still giving up the same piece (Peavy) to acquire more than they would have in May.
Well done, Kevin Towers.