NBA Rumors: Bosh and Wade talk about 2010, David Lee to Portland, and more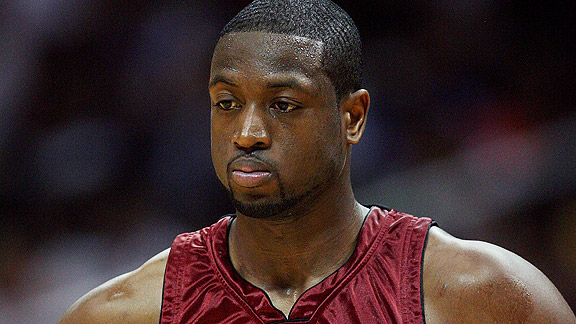 Chris Bosh discussed Miami as a possible destination next summer.
"As of right now, I'm not sure. I like Miami, don't get me wrong. But I don't know what comes along with being a part of that organization. I don't even have any friends in Miami, which was the funniest part. A close friend of mine hit me yesterday and was like 'Hey there's another article out' and I was like 'What now?' 'Apparently a friend in Miami said you're going to Miami.' He sent me the article and I read it, and I'm like, 'now they're just making stuff up.'"
For Heat fans, re-signing Dwyane Wade and signing Bosh would be a dream scenario next summer. The best thing Miami has going for it (other than South Beach, of course) is Wade, so if Bosh signs he better hope that Wade doesn't pull an Elton Brand and bolt. Speaking of…

Dwyane Wade discussed his hometown of Chicago as a possible destination next summer.
"I'm not ruling out a lot of places, including Chicago, but I'm not really thinking about those places. Like I said, 2010 is the year when I will sit down and open up my options and, hopefully, I'm still blessed and healthy to have those options and then go from there. But Miami is my number one option and I've made that clear. That's where I want to be and, hopefully, we can get everything right here in Miami."
Wade is just keeping his options open. He has said repeatedly that he'd like to stay in Miami, but he's keeping the organization's feet to the fire by insinuating that he still might leave if the franchise is unable to surround him with good players. The Heat are projected to have significant cap space next summer, so they could conceivably sign Chris Bosh, Amare Stoudemire or even LeBron James.
Posted in: NBA, NBA Draft, News, NFL Draft, Rumors & Gossip
Tags: 2009 NBA Draft rumors, 2009 NBA free agency, 2009 NBA free agency rumors, 2009 NBA free agents, 2010 NBA free agency, 2010 NBA free agency rumors, Coach K Lakers, Coach K to L.A., David Lee Blazers, David Lee Portland, David Lee trade, David Lee trade rumors, Hedo Turkoglu, Hedo Turkoglu free agent, Hedo Turkoglu rumors, Jordan Hill, Jordan Hill draft, Jordan Hill rumors, Mike Krzyzewski, Mike Krzyzewski Lakers, NBA Draft, NBA Draft rumors, NBA free agency rumors, NBA rumors, Warriors draft rumors