Hasheem Thabeet to enter NBA Draft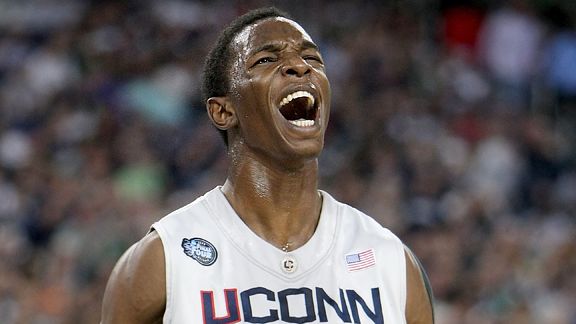 UConn junior Hasheem Thabeet will forgo his senior season and declare for the NBA Draft.
"After spending time with my family and friends and speaking with Coach (Jim) Calhoun, I have decided to give up my final year at UConn and enter my name in the 2009 NBA Draft," Thabeet said via a statement. "I have had a great experience at Connecticut and cannot thank my coaches and teammates enough. I look forward to the challenge of playing professionally and know that my time here at UConn has prepared me to be successful in the future."
The 7'3″ center averaged a double-double (13.6 points, 10.8 rebounds) and an eye-popping 4.2 blocks per game on the season. I think he has the potential to be a very good defensive-minded center (think Dikembe Mutombo). He's pretty fluid for his size and can get up and down the court with ease. His hands seem small (as he loses the ball often when he brings it down below his waist) and his post moves need a lot of work. Like anyone with his size and natural athleticism, he'll be as good as he wants to be.
He is a likely top 5 pick, so this decision makes sense.