Fantasy Quick-Hitters: Westy, Eli, Braylon and more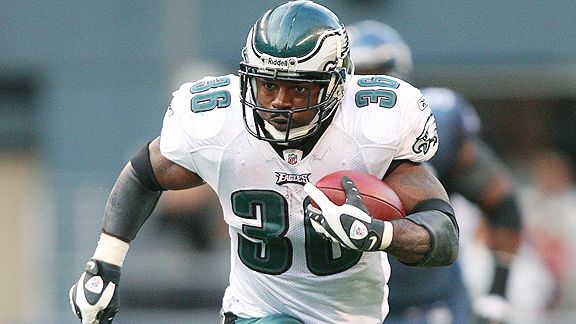 Westbrook and McNabb to play. It looks like LeSean McCoy will eat into Westy's touches, but he's still a very good start against the Bucs' sketchy defense. This should also be an upgrade for DeSean Jackson and even David Akers, who should see more opportunities now that McNabb is back under center.
Eli Manning sits out of practice. He's looking like a game-time decision for Sunday. The good news is that he can't make his foot worse by playing on it — it's all about what kind of tolerance he has for the pain. I'd expect Manning to continue with the great season he's having since mobility isn't one of his strengths in the first place.
Giants want to involve Hakeem Nicks. On three targets, Nicks caught one pass for 54 yards and a TD in Week 4, while Mario Manningham went 1-43 on eight targets. Manningham is currently getting the lion's share of looks, but he didn't convert very well on Sunday. His conversion rate is now down to 56%, which is just mediocre. Nicks' rate (43%) is even worse, but the Giants still want to get him involved in the offense. The only safe start for the Giants right now is Steve Smith.
Roy Williams (ribs) did not participate in practice on Wednesday. This an upgrade for the rest of the Cowboys' receiving corps, and now Patrick Crayton looks like a decent start in most leagues while Sam Hurd becomes a sleeper with Williams sidelined. This hurts Tony Romo since he'll have one fewer weapon to utilize, but he shouldn't have trouble posting a nice fantasy line against the Chiefs. Keep an eye on Williams this week.
Braylon Edwards to start Monday night. You'd think they'd bring him around slowly, but the Jets don't have a lot of options at WR now that Chansi Stuckey is gone. They're going to take their new toy out for a spin. Will Braylon suddenly discover where his hands have been hiding the last year and a half? Only time will tell.