Report: Burress wants to play for Dolphins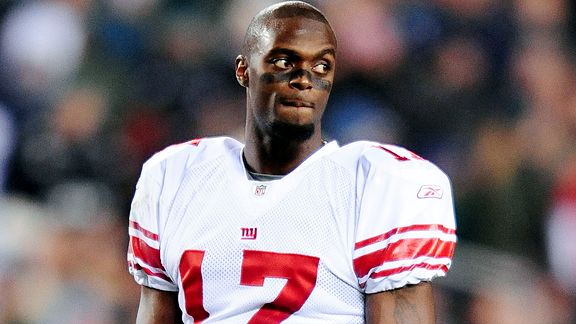 According to a report by the Miami Herald, former Giants wide receiver Plaxico Burress wants to play for the Dolphins.
Former Giants receiver Plaxico Burress, who has a residence in Miami, has told people he would love to join the Dolphins if his legal problems are resolved. The Jets and Buccaneers are reportedly interested. Burress will appear in court next month and faces the possibility of a 3 ½ year sentence for carrying an unlicensed firearm.
This was in the paper's "Chatter" section, so it should probably be taken with a grain of salt. That said, I don't see Bill Parcells taking a shot on a player like Burress after going toe to toe with T.O. in Dallas a couple years ago. Parcells wants to win just as much as anyone, but he's too smart to take on a headache like Plax.
Miami certainly isn't stacked at receiver, but they're not in horrible shape, either. Even though he hasn't set the league ablaze yet, nobody is ready to give up on former top 10 pick Ted Ginn Jr. and the team is really high on Greg Camarillo, who they feel can be the next Wes Welker. The Fins also drafted receivers Patrick Turner and Brian Hartline in the mid rounds of last April's draft, so they'll be more inclined to let those young wideouts develop than to sign a possible distraction in Burress.