2009 NFL Picks & Predictions: Week 6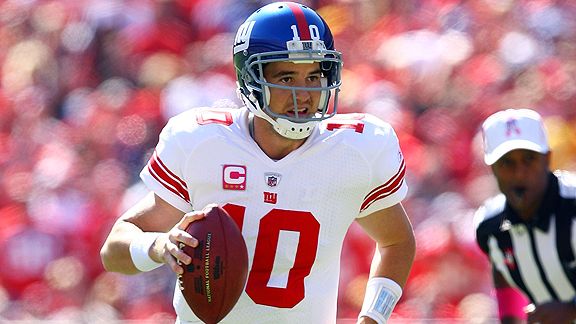 Giants (5-0) at Saints (4-0), 1:00PM ET
Hopefully readers will give me credit for attempt to predict the toughest games this week. No? All right then…This is by far the hardest game to predict on the Week 6 schedule, so let's look at some of the facts. The Saints should be well rested coming off a bye and are playing at home. They have the edge then right? They should, but don't forget that the Giants essentially had a bye themselves since they played Oakland last week and New York always travels well. Drew Brees hasn't seen a pass rush as good as the Giants' all season and I think New York will disrupt his rhythm. And while Darren Sharper and the New Orleans defense is playing out of their minds right now, Eli Manning won't make the same mistakes rookie Mark Sanchez did two weeks ago when the Saints earned a victory against the Jets. I like Brandon Jacobs to get back on track and for the G-Men to pull off a huge win at the Superdome.
Odds: Saints –3.
Prediction: Giants 27, Saints 24.
Ravens (3-2) at Vikings (5-0), 1:00PM ET
So, are the Ravens just in a slump or were they overrated to begin with? Give yourself a gold star if you answered, "A little of both." Baltimore lost several defensive starters and their coordinator Rex Ryan in the offseason – they were due to have a setback at some point. While I think the Ravens are a solid football team, I don't like this matchup for them. They're reeling after two straight losses and play an unfamiliar foe in a hostile environment. I also don't like the matchup between the Ravens' receivers and the Vikings' corners and wonder how Joe Flacco will do once Ray Rice and the running game is shut down by Minnesota's Williams Wall. As long as Brett Favre doesn't get turnover-happy for the first time this year, I like the Vikings to remain undefeated.
Odds: Vikings –3.
Prediction: Vikings 21, Ravens 17.