NBA Draft & Free Agency Rumors: Monta unhappy, Cavs looking at Jamison and more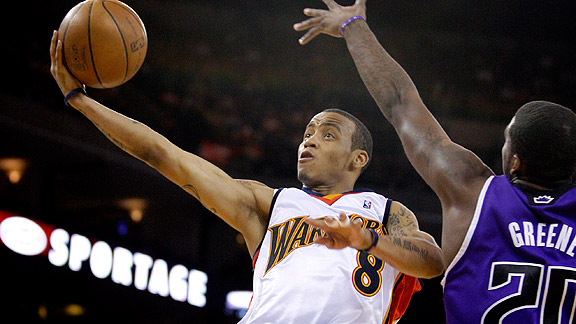 With the Finals behind us and the draft and free agency looming, the rumors are flying fast and furious. Here's a rundown of the latest scuttlebutt…
Things are rumored to be getting worse in Golden State.
The talk is that Monta Ellis is unhappy with the direction the organization is heading in, and still holds a bit of grief over the way they held his contract status in limbo for months following his moped injury. For weeks we've heard that Ellis is no longer interested in playing for Golden State, and apparently it had reached a point where it was "close to popping off" in the words of one NBA executive—meaning going to the media and publicly demanding a trade.
Let me get this straight — the franchise gives Ellis $66 million over six years and he rewards them by tearing up his ankle in a moped accident, missing 57 games this season. I'm sure he wasn't happy about the 30-game suspension he served with no pay, but he wasn't going to play in those games anyway. Shouldn't he be punished for being boneheaded enough to tool around on a moped?
It sounds like the team has promised Ellis that he'll be running the point next season and may have promised that they wouldn't take a point guard at #7, prompting several prospects — Stephen Curry, Jrue Holiday, Tyreke Evans and Ricky Rubio — to refuse to work out for Golden State. Suddenly, Jordan Hill looks like a stronger possibility if he's still on the board when the Warriors pick.
Posted in: NBA, NBA Draft, News, Rumors & Gossip
Tags: 2009 NBA free agency, 2009 NBA free agents, Antawn Jamison Cavs, Antawn Jamison rumors, Cleveland Cavaliers, Draft Rumors, free agency rumors, Jordan Hill, Jordan Hill draft, Jordan Hill rumors, Kevin Love, Lamar Odom rumors, Monta Ellis rumors, NBA Draft rumors, NBA free agency rumors, NBA rumors, Ricky Rubio draft, Ricky Rubio rumors, Shaq rumors, Shaq to Cleveland, Summer of 2010, Trevor Ariza rumors