Report: Pirates pushing hard to deal Freddy Sanchez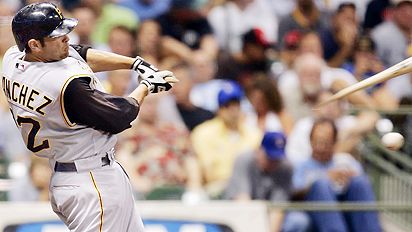 One of the more intriguing names on the trade market is Pirates second baseman Freddy Sanchez, who is currently batting .316 with six dingers and 33 RBI. And as the Pittsburgh Post-Gazette is reporting, the Bucs are pushing hard to deal him before the trade deadline.
Two teams that covet the second baseman are the Giants and Rockies, each of whom are battling it out behind the Dodgers in the NL West and are in the thick of things for the NL Wild Card. Sanchez would be a nice catch for either team, although something for both clubs to consider is his salary. The All-Star makes $6.1 million this year and will make $8 million in 2010 if he picks up another 271 plate appearances before the end of the season.
Colorado might hold an edge over San Fran in the Sanchez sweepstakes because Pittsburgh is reportedly gaga over Rockies' minor leaguer Eric Young. The 24-year-old has 23 extra base hits, 37 walks and a whopping 47 steals so far in the minors and if the Rox are willing to part with him, they could have Sanchez in uniform sooner rather than later.
That said, the Giants always have an abundance of pitching, but whether or not they're willing to give any of it up remains to be scene. Madison Bumgarner and Tim Alderson are certainly out of the question, but GM Brian Sabean could still put a decent package together with the likes of Jonathan Sanchez or Kevin Pucetas, coupled with a couple of offensive prospects. (Sabean would probably be willing to throw Fred Lewis into the mix as well, although who knows if the Bucs would even want the struggling 28-year-old outfielder.)
It'll be interesting to see which team eventually winds up making a move for Sanchez. Either way, it appears that his days in Pittsburgh are numbered.