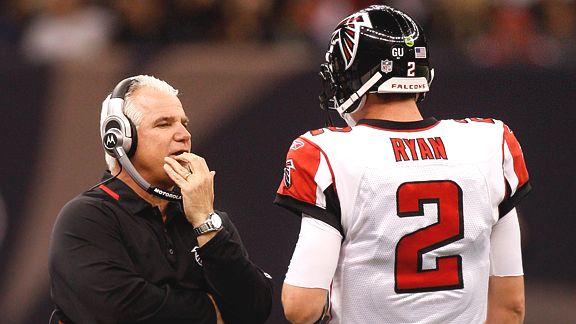 With how exceptionally well he played as a rookie last year, it's easy to forget that Matt Ryan only has 24 career starts under his belt.
Ryan did some great things in the Falcons' 35-27 loss to the Saints on Monday night, most notably throwing a 68-yard rainbow to Roddy White to cut New Orleans' lead to 28-21 early in the third quarter. He also found White and Tony Gonzalez on some key third downs to keep the chains moving and leave the Saints' dynamic offense on the sidelines for most of the second half.
But he also made some mistakes that second year quarterbacks are unfortunately prone to making. Things like zeroing in on Gonzalez or forcing a pass into a well covered White late in the first half that led to a huge defensive touchdown for the Saints. He also looked rushed in the pocket at times and took a couple of unnecessary sacks because he didn't go through all of his progressions. For a young man who has built the reputation of having ice water in his veins, "Matty Ice" looked uneasy several times when the Falcons needed a big play in the passing game.