The Wizards aren't trading Antawn Jamison…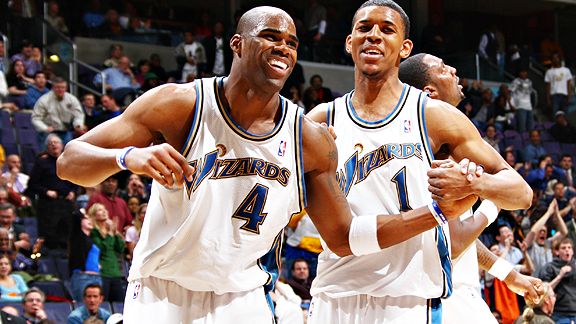 …or so says Michael Lee of the Washington Post.
The Wizards, or Ernie Grunfeld in particular, has invested a lot into this group with Gilbert Arenas and Antawn Jamison. I think he really wants to see how far they can go if they are healthy. Jamison is the only Wizard to start in the past four postseasons and he was a one-man show in 2007, back when Gilbert and Caron Butler were out against Cleveland. They signed with the intention of keeping him. The best time to move Jamison was at the trade deadline last February.
NBCWashington.com's Kyle Weidie expands on that line of thinking…
More important than the investments of Grunfeld are the interests of Abe Pollin. The aging owner is willing to do what it takes to compete for a title, but anyone familiar with Pollin's modus operandi knows that doesn't mean trading away an upstanding member of the community like Antawn.

Sure, the "perfect" opportunity could come knocking. But NBA GMs, especially in these economic times, won't be rapping their knuckles on doors for a soon-to-be 33-year-old with three years and $40+ million left on his contract. Isiah Thomas is no longer running a team, people.
One look at the Wizards' payroll and it's easy to see that it's a mess. Gilbert Arenas's contract is ridiculous for a guy who has missed 91% of his team's games over the last two years, and the Wizards still owe him $96 million over the next five seasons. Jamison is almost 33 and has more than $40 million remaining on his contract. The only truly reasonable deal amongst Washington's "Big Three" is Caron Butler's contract, but it's also the shortest at two years and $21 million. Arenas and Jamison are virtually unmovable right now, and the Wizards would be dumb to trade Butler, who is arguably the team's best all-around player.
Grunfeld wants to see what this group can do, and that's great because he doesn't really have any other options. He has hitched his wagon to this trio — or specifically to Arenas and Jamison — and is hoping they can succeed. But even with a healthy Arenas, does anyone really think the Wizards are a legit contender? Brendan Haywood is playing better (when healthy), but the Wizards still need a couple of big men to step into prominent roles. Washington has the fifth pick in the draft, but it is no sure thing that they'll be able to find someone to help right away (Jordan Hill?), and the team is most definitely in "win now" mode.
My guess is that Arenas comes back reasonably strong and the Wizards finish the season as a #6 or #7 seed in the East, likely to be dismissed in the first round of the playoffs by Boston, Cleveland or Orlando. That's probably a best-case scenario, and it's not all that good, especially when the franchise is locked into this roster for the foreseeable future.