Decade Debate: 15 Best College Football Players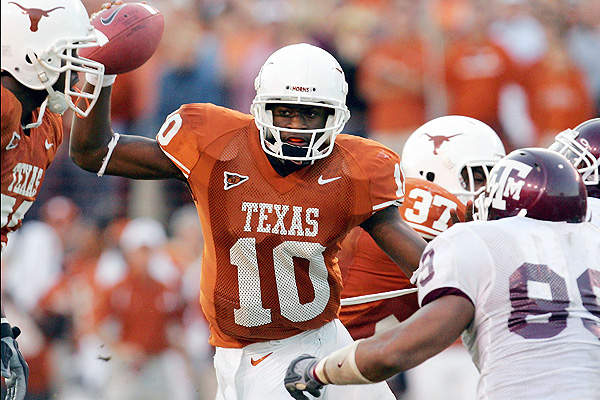 Judging which college football player was the best over the past decade can be a tricky endeavor. Do you rank a player that has won a Heisman higher than one that has not? Do you penalize a player if he played in a pass-happy system that allowed him to put up lofty numbers? Do you judge his performance based on the talent around him or the difficulty of his competition? As part of our ongoing Decade Debate series, here is a top 15 ranking of the best college football players of the past decade. Perhaps more than any of our lists in this decade series, this one could be debated the most given the factors that surround it.
15. C.J. Spiller, RB, Clemson

If you want to be entertained, try turning on a Clemson game and watching Spiller for three-plus hours. He's a terrific runner, an electrifying return man and one of the deadliest weapons in college football. He is the only player besides Reggie Bush to post 2,500 yards rushing, 1,500 yards in kickoff returns, 1,000 yards receiving and 5,000 yards in punt returns. He's also tied a NCAA record for most kickoff returns for touchdowns with six. If it weren't for a lackluster junior season, he'd probably rank higher on this list.