Elite Eight Preview & Picks: Louisville/MSU, UNC/Oklahoma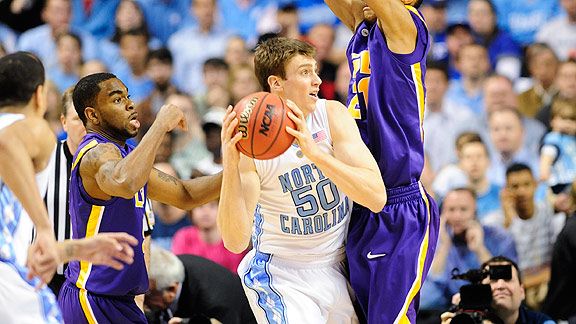 #2-seed Michigan State vs. #1-seed Louisville
Tip-Off: 2:20 PM ET
Sagarin Ratings: Louisville (92.53), Michigan State (88.53)
Line: Louisville -6.5
The Spartans exceeded my expectations when they beat Kansas in the Sweet Sixteen, but anytime a team has a great point guard (Big 10 POY Kalin Lucas) and a lot of grit, they have a shot. Tom Izzo's team isn't going to give up, which makes the dog an interesting play in this game. There's no doubt in my mind that Louisville is the better team, but they looked flat against Siena before blowing out Arizona. The Sagarin numbers say that the line is off by 2.5 points, but Raymar Morgan has a broken nose and has to wear a mask for the first time, so I'd stay away from this one. I think Louisville will win, but it might be tight if the Cardinals put it into cruise control too early or if they don't bring their A-game.
#2-seed Oklahoma vs. #1-seed North Carolina
Tip-Off: 5:05 PM
Sagarin Ratings: UNC (94.64), Oklahoma (89.96)
Line: North Carolina -7
The big question heading into the tournament was the health of Ty Lawson's toe. I think that question was answered with his solid play against LSU and Gonzaga. North Carolina should have enough firepower to beat the Sooners, but seven points is a lot to give a good Oklahoma team. In addition to POY candidate Blake Griffin, Willie Warren is one of the best freshman in the country, and Tony Crocker is capable of stepping up and hitting a bunch of threes. Still, the way the Tar Heels playing, I wouldn't be comfortable taking the Sooners and the points.