NBA News & Rumors: Nets' SG, Curry, Delonte and more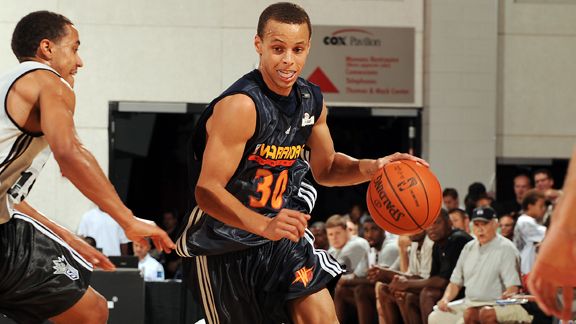 Courtney Lee and Chris Douglas-Roberts fighting to be Nets' starting shooting guard. Courtney Lee is a player. He can shoot, score and defend, and he's still troubled by Orlando's decision to trade him away. That layup he missed in the Finals was no gimme. By the time he was in position to release the ball, his entire torso was behind the backboard. It's a shame that's what people remember of Lee from last season. This battle may go deeper into camp, but Lee has more talent and should be starting for the Nets this season.
Replacement refs aren't up to snuff. Last night in the Rockets-Celtics game, 75 fouls were called and 102 free throws were shot. This is astounding. NBA refs get a bad rap. Basketball is a tough game to officiate because there is so much contact on any given possession. Refs have quite a bit of leeway, which can lead to inconsistency from game to game and from crew to crew.
HC Don Nelson plans to use Stephen Curry as a starter…at times. He says it's going to be a matchup thing because Curry is so good. So look for Curry to start when the opponent also has a couple of smallish guards in the starting lineup. But wouldn't a Monta Ellis/Stephen Curry backcourt create huge matchup problems on the other end of the court? I think most off guards would have a tough time getting back in transition to cover Curry on the wing.
When will the Milwaukee Bucks get a new arena? I grew up outside of Milwaukee and remember when the Bradley Center was state of the art. Needless to say, that was a while ago. The Bucks are in a tough spot because with the recession, they're going to have a tough time making money this season unless the team is playoff-caliber. Given the environment, neither the city nor the franchise are going to want to pay for an arena, so there's a real chance that the Bucks' owner — Senator Herb Kohl — sells the team in the next few years. It would be a shame, because Bucks fans are great when the team is good (or at least mediocre).
Delonte West leaves the team…again. Other than maybe the Lakers, the Cavs are probably the best equipped to handle this kind of drama during training camp. With the whole LeBron/Shaq honeymoon, eyes are elsewhere, but West has the potential to become a distraction as the season wears on. He's too good to cut loose, but not so good that he deserves special treatment. It's going to be interesting to see how the Cavs handle West if he continues to miss time.
Posted in: NBA, News, Rumors & Gossip
Tags: 2009-10 NBA season, Bradley Center, Chris Douglas-Roberts, Courtney Lee, Delonte West, Delonte West arrest, Delonte West arrested, Delonte West gun charges, Golden State Warriors, Milwaukee Bucks, Milwaukee Bucks arena, Milwaukee Bucks new arena, NBA officials, NBA refs, NBA replacement refs, New Jersey Nets