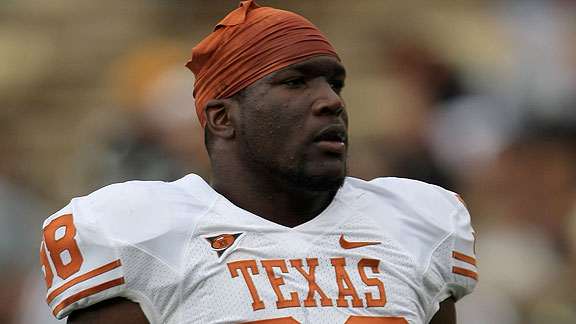 I remember back in high school when I discovered Final Fantasy 7 and my life changed forever. 10 years later I'm better than all my friends at riding chocobos and using potions. Hooray. I suppose we could compare my gargantuan accomplishment with Brian Orakpo's if I try really hard. Seems Orakpo started as a mere basketball star, and by the time he matriculated, had discovered he was in fact one of the best defensive football players in the country. Big whoop.
Facetiousness aside, it takes a hell of a lot of work to reach the level that Orakpo has, especially in so short a time. According to Orakpo's high school teammate Drew Kelson in an article on Inside Texas.com:
"Freshman football was merely about playing in front of all your classmates right on the campus football field. Simply having a uniform and getting a chance to play was cool."
That is not the kind of atmosphere I have been led to expect from Texas high school football. Shame on you Friday Night Lights. No, I take it back; I can't stay mad at you.
So Orakpo spent his first couple of seasons at Lamar High School in Houston impressing the ladies and looking good. Not too shabby. But there came a time for the young Orakpo when he realized that he could actually make something out of this football thing, perhaps a big something. By the time high school was over, Orakpo had been recognized throughout the country as a defensive prospect and had been recruited to play for the University of Texas.
Posted in: College Football, Fantasy Football, General Sports, News, NFL, NFL Draft, Rumors & Gossip
Tags: 2009 NFL Draft, 3-4 Defensive End, Add new tag, Athlete Profiles, Brian Orakpo, Brian Orakpo Bio, Brian Orakpo Draft Rumors, Brian Orakpo Profile, Brian Orakpo Rumors, Brian Orakpo stats, Defensive End, Orakpo Draft, Texas