Giants' linebacker rips new Cowboy stadium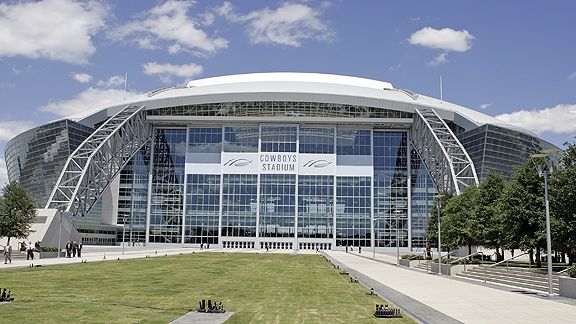 After his visit to the new Cowboy stadium last Sunday night, Giants' linebacker Danny Clark wasn't too impressed by Dallas owner Jerry Jones' new castle.
From the Los Angeles Times:
Clark told Sirius XM satellite radio that the visiting locker room inside the stadium features few creature comforts.

"There's not a lot of hot water in there," Clark said. "[Jones] cut some corners in the bathroom there."

Clark also was dismissive of the noise factor created by an NFL-record crowd of 105,121.

"It wasn't as loud as you would think 105,000 people would be," he said. "And for [good] reason. I mean, we did a decent job of making some plays so they weren't all over the place, but I played in Michigan [Stadium] where there's 100,000 people. It wasn't crazy.

"I played in New Orleans when we reopened the [Super]Dome in 2006 after Hurricane Katrina.

"That place was twice as loud as this new stadium."
I'm not surprised by the noise. Michigan Stadium may house 100,000 screaming fans, but the noise goes straight up because of the way the stadium was built. So it's not as loud as one would expect. I've never been to the new Cowboy stadium, but maybe the way it's structured limits the noise.
That said, what Clark said about the bathrooms was freaking hilarious. Hey, Jones had to cut somewhere to get that big ass TV screen in the rafters.