Will the 'Curse of 370' slow Turner down?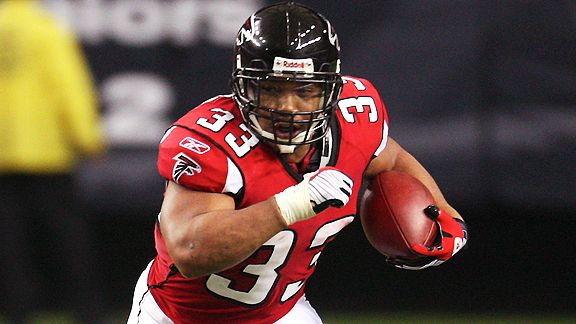 Michael Turner carried the ball 376 times last season, which is a bad omen if you believe in the "Curse of 370."
The stat was "discovered" by Football Outsiders founder Aaron Schatz in 2004.

The "370 Curse" has reared its head in the Falcons locker room before.

Running backs who rush for more than 370 carries in a season will either have a significant decline or get hurt the following season. Only one running back, Eric Dickerson, has been able to beat the curse.

After Jamal Anderson powered the Falcons to the Super Bowl with 410 carries in 1998, he suffered a torn anterior cruciate ligament in 1999 and was never the same.

Gerald Riggs ran for 1,719 yards on 397 carries in 1985. He followed up that season with 1,327 yards on 343 carries but although he played five more seasons, he never eclipsed the 1,000-yard mark again.

Some of the latest players to succumb the curse include Seattle's Shaun Alexander, Kansas City's Larry Johnson, Tennessee's Eddie George and Miami's Ricky Williams.
For their part, the Falcons don't believe Turner was overused, and when they need to run the ball, they're going to call Turner's number.
I like Turner this year, but I don't think he's going to rack up 370+ carries again this season. Assuming he doesn't get injured, I expect him to carry the ball 320-350 times. He's not a big part of the Falcons' passing game, so that hurts his fantasy stock in PPR leagues.
It's going to be interesting to see if Turner can avoid the "curse" this season.