Darius Rucker has an End Zone Obsession…and he'd like to share it with you
Not that there aren't already plenty of places on the World Wide Web where you can go to make weekly football picks, but if you're one of the millions of people who have owned and loved Hootie and the Blowfish's album Cracked Rear View, then it might just behoove you to offer a cursory click onto Darius Rucker's End Zone Obsession.*
End Zone Obsession originated out of an attempt by Rucker and his "people" to figure out a more exciting way to interact with his fans, and when the talk turned to football, Rucker knew they'd hit on an idea that had serious potential. Soon, web designers were hard at work, putting together an easy-to-use site that would allow Rucker and his fans to pick the winners and losers for each week of the NFL season.
"People have been challenging me, and I've pretty much accepted every challenge," said Rucker. "Last week, everybody was talking trash before the weekend, and then I won, 'cause I picked every game right. So I was on this morning, doing the trash-talking. I'm telling them, 'Guess you've got to do better next week!'"
As Rucker is a diehard Miami fan, this interview obviously took place prior to the Dolphins having been blown out of the water by the Patriots, but it's not as though his tune will have changed as a result. Clearly, it's far too late for that now…
* Rucker officially became a Miami Dolphins fan on January 16, 1972. "The Dolphins are playing the Cowboys in the Super Bowl, and I'm in the house with all my cousins. My two aunts are there. There's, like, 14 kids, and every kid in there, everybody in my whole family, is pulling for the Cowboys. I decided that day that I was pulling for the Dolphins…and I remember crying when the Dolphins lost at the end. But the next year, I started playing little league football, and ever since then I've loved the game."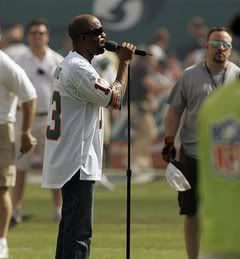 * He has a piece of swag that would make any Dolphins fan drool. "The very first Miami Dolphins game I ever got to go to, it was a Monday night game against the Steelers back in '94, and I got to sing the National Anthem. After that game, Dan Marino took his jersey off and gave it to his assistant and had it framed for me, and that is my favorite piece of paraphernalia that I got. I've lived in my house for 12 years, and my decorator laughed at me when I moved in, because that jersey was up in the house before anything else could enter."
* There has only ever been one occasion when his devotion to Miami has wavered. "When I heard that Dave Wannstedt told Dan Marino that he thought that he had a better chance to win with Jay Fiedler than him, I really thought about switching my alliances, because I thought we had the dumbest coach that had ever coached a game of football."
Given Rucker's dedication to the Dolphins, he's not afraid to admit that you can always count on him to make the same selection on End Zone Obsession week after week after week.
"I'm talking to my assistant yesterday, I'm making my picks, and he goes, 'What do you think about the Dolphins game?' And I said, 'Dude, I'm picking the Dolphins sixteen times in a row.' I can guarantee you that. I'll be picking the Dolphins sixteen times in a row. And it's not, like, I'm thinking in my heart, 'Oh, well, I've got to pick the Dolphins.' I truly believe they're going to win."
* For the record, yes, we do know that Rucker has not only continued to record well beyond Hootie's aforementioned 1994 album but, indeed, has been shifting mass country-music units for the past several years as a solo artist, thanks to such hit singles as "Don't Think I Don't Think About It," "It Won't Be Like This for Long, and "Alright." But, damn, man, Cracked Rear View went platinum sixteen times over. I think that still warrants being cited as his predominant accomplishment, don't you?