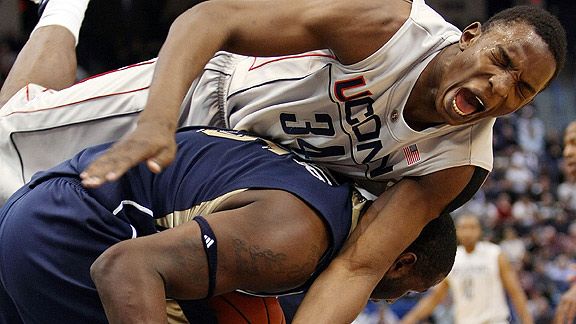 It's funny how draft stock doesn't always have a whole heck of a lot to do with how good a player is. For example, take the two big-name big men in tonight's Pitt/UConn matchup. One guy is projected to go as high as #2 in some mock drafts and the other is supposed to be a mid- to a late-first round pick. One guy is 7'3″, long and athletic and is one of the nation's best shot blockers. The other is an undersized power forward who is maybe 6'7″ if you're feeling generous. How did these to players perform tonight? One guy scored 22 points and grabbed 23 rebounds and the other managed just five points and four boards.
Who's who? Well, the 7'3″ Hasheem Thabeet is projected to go in the top 5 in most mock drafts and he was thoroughly outplayed by 6'7″ strongman DeJuan Blair. In fact, Blair is so strong that he nearly broke Thabeet's arm early in the first half (an event which was captured in the above picture).
The game was a back-and-forth affair until late in the second half. With 3:11 to play and the game tied, 61-61, Levance Fields made the first of back-to-back three pointers to put the Panthers up six. He went on to hit four straight free throws to put the Huskies away. The Panthers upended the Huskies, 76-68.
Sam Young — another NBA prospect — led the Panthers with 25 points, hitting 4 of his 6 three-pointers. A.J. Price posted 18 points and eight assists.
The key to beating UConn is to limit Thabeet's impact on both ends of the court. Pittsburgh kept him from dunking and he was just 3-6 from the free throw line. On the other end of the court, Blair was very physical with the big man, pushing him back underneath the basket before using a plethora of post moves to finish at the rim. It's hard to block shots when the offensive player is pushing you back, and that's exactly what Blair did tonight.
Another #1 falls. Pittsburgh is a tough team and they won't be an easy out come March.