The Titans have to make a quarterback change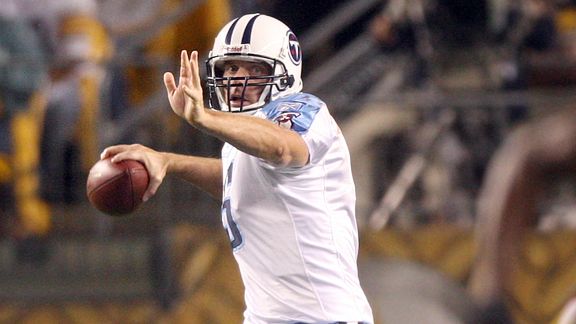 A year after starting 10-0 and earning the AFC's top playoff seed last year, the Tennessee Titans have crumbled to a 0-5 start in 2009. And outside of keeping things close against the Steelers in Week 1, it's been an ugly 0-5 for Jeff Fisher's team.
In the Colts' 31-9 win over the Titans on Sunday night, it was again evident that Kerry Collins can't lead Tennessee's offense. When his offensive line didn't give him time to throw this year, he stumbled into sacks by moving backwards in the pocket. When they did give him time, he was off the mark and inaccurate.
The Titans can no longer line up with an opponent and go toe to toe with them. They simply don't have enough offensive firepower to keep up with how many points their defense is giving up, so Fisher needs to start getting creative. If Collins can't move the offense, then Vince Young needs to start.
Fisher and his coaching staff obviously doesn't think Young gives the Titans the best chance to win or else he'd already be starting. But what do they have to lose at this point? If Young gets his confidence back, he might light a fire under the rest of Tennessee's offense and inspire his team not to quit on the rest of he season. If he flubs, then he flubs and the Titans will continue to drudge through what is turning out to be a lost season.
At one point, the Titans thought Young was going to be their quarterback for a long time. His mental collapse last year was unfortunate, but at some point Tennessee needs to move past that and see if Young will ever be the quarterback they thought he would once be.
It's good that Fisher went to Young in the fourth quarter tonight, but Vince deserves a chance to take first-team reps in practice and prepare for a defense as a starter. As Young showed by picking up a first down on a third and long, he can make things happen with his legs and at the very least keep the chains moving. He's still going to make mistakes, but Collins has made his fair share to start the year so you might as well roll the dice with the more athletic Young.
Fisher needs to realize that his 2008 team isn't coming back. The wily veteran quarterback that led his team to a 13-3 record has aged about 10 years and is playing with a lack of confidence. It's time to go back to Vince Young.