USC game crucial for Notre Dame, Weis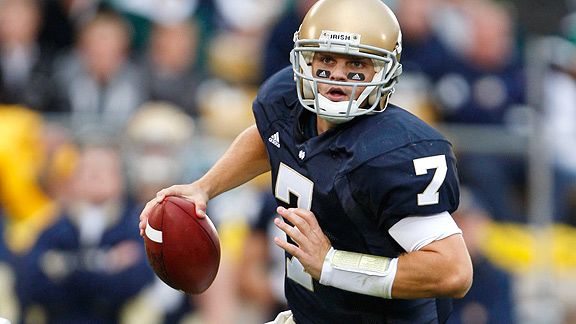 Nobody has to remind Notre Dame's players and head coach Charlie Weis what this Saturday means for the program. A win would serve as a stepping-stone for the school to get back among the nation's elite. A blowout loss would send them spiraling backwards and might inevitably cost Weis his job.
"I said, Saturday night fellas, you're going to be the lead story in the country, one way or another," Weis said. "So which lead story do you want to be?"
Besides the fact that Charlie must not realize Oklahoma is also taking on Texas this weekend, his comments pinpoint the magnitude of Saturday's game. This isn't just another game for the Irish – it's the game of the year.
The Trojans have beaten the Irish seven straight times. During that span, USC quarterbacks have averaged 323 passing yards and since October of 2002, the Trojans are 31-2 against ranked opponents.
Oh, and they also rank sixth in the nation in total defense.
But this is a different Notre Dame team, at least offensively. Jimmy Clausen ranks No. 1 in the country in passing efficiency and the Irish have the 10th best offense in college football. They're averaging 470 yards per game and over 30 points per contest. Their ground game doesn't get as much attention as their passing attack, but the Irish are averaging 148 rushing yards per game so they can beat you in a variety of ways.