Yahoo Sports probe finds that UConn violated recruiting rules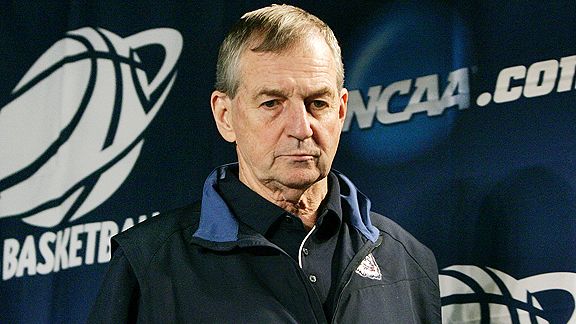 Adrian Wojnarowski and Dan Wetzel co-authored a revealing look inside the recruitment of top high school prospect, Nate Miles. The article is meaty and detailed, but here's the gist…
The University of Connecticut violated NCAA rules in the recruitment of former guard Nate Miles, a six-month investigation by Yahoo! Sports has found.

Miles was provided with lodging, transportation, restaurant meals and representation by Josh Nochimson – a professional sports agent and former UConn student manager – between 2006 and 2008, according to multiple sources. As a representative of UConn's athletic interests, Nochimson was prohibited by NCAA rules from having contact with Miles and from providing him with anything of value.

Agents aren't just recruiting players from college programs, they are recruiting players for them, according to an NCAA official.

The UConn basketball staff was in constant contact with Nochimson during a nearly two-year period up to and after Miles' recruitment. Five different UConn coaches traded at least 1,565 phone and text communications with Nochimson, including 16 from head coach Jim Calhoun. Yahoo! Sports obtained the records through the Freedom of Information Act. The documents were requested in October and received two weeks ago.

The NCAA allows a single phone call per month to a prospect or his family in a player's junior year of high school. That limit was exceeded over several months from late 2006 into 2007. In December of 2006, for instance, Tom Moore, then a UConn assistant coach, made 27 calls to Miles' guardian and a person Miles referred to as an uncle. Moore made three calls to Miles.

From that first meeting until Miles was expelled from the university in October 2008 for violating a restraining order brought by a female student, Nochimson played an integral role in the player's life.

Nochimson filed paperwork with the NBA Players Association to decertify himself as an agent in June 2008 after UConn All-American and Detroit Pistons star Richard Hamilton fired him as his business manager and accused him of stealing more than $1 million.

As an alumnus and former part of the men's basketball program, Nochimson is defined by the NCAA as a representative of UConn's "athletic interests." As such, NCAA rules say he could "not be involved in the recruiting process" and could "not make any contact, including telephone calls and letters, to a prospect or the prospect's family, on or off campus."

The fact that Moore knew Nochimson and Miles were talking was a violation.
When I first heard this news, two thoughts jumped to mind:
1) Why is Yahoo Sports releasing this story on the eve of the Sweet Sixteen?
2) Who the hell is Nate Miles?