Surprises and Busts: Trying to predict the unpredictable in fantasy football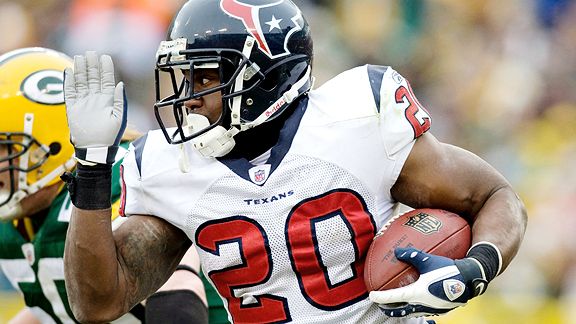 Most fantasy owners draft a running back in the first round and oftentimes their season depends on how that player fares. If he misses a few games with an injury and is bothered by it for a few more, his production will suffer and it will put his fantasy team in a tough spot. This can be offset if his owner is savvy enough to draft one of the "surprise" backs that inevitably crash the top 10 every season.
But how does one pluck one of these backs out of the middle rounds? Better yet, how can we avoid drafting an early round bust in the first place?
As a forewarning, this is not a tight article. I ponder, deliberate and meander as I go along. Trying to predict the future is nebulous at best and futile at worst, so please bear with me as I muddle my way through this topic.
Here's a list of the top RBs from 2008…
Posted in: Fantasy Football, NFL
Tags: 2009 fantasy football, 2009 fantasy football preview, Beanie Wells, Beanie Wells fantasy, Chris Wells, Chris Wells fantasy, Derrick Ward, Derrick Ward fantasy, Fantasy football draft strategy, fantasy football preview, fantasy football running backs, fantasy football strategy, John Paulsen, Knowshon Moreno, Knowshon Moreno fantasy