2009 NFL Preview: #4 San Diego Chargers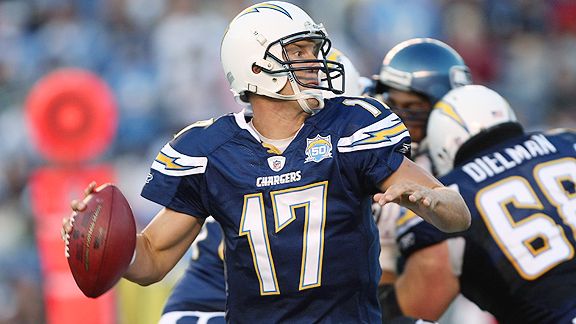 Check out all of our 2009 NFL team previews.
Offseason Additions: Kevin Burnett (LB).
Offseason Losses: Igor Olshansky (DE); Mike Goff (G); Jeremy Newberry (C).
Player to Watch: Vincent Jackson, WR.
Once thought of as a player that would never reach his full potential, Jackson is a star in the making after hauling in 59 receptions for 1,098 yards and seven touchdowns last season. Built like a body builder, Jackson has drawn comparisons to the Cardinals' Larry Fitzgerald because of his size (6'5", 230 pounds) and athletic ability. He gives quarterback Philip Rivers a legit deep threat in the passing game.
Team Strength: After excelling in the pass-rushing area during their deep playoff run in 2007, the Chargers struggled to get after the quarterback last year. Now that linebacker Shawne Merriman is back after missing virtually all of last season following knee surgery, the Bolts can get back to terrorizing quarterbacks. The player happiest to see Merriman back is outside linebacker Shaun Phillips, who struggled with his teammate on the sidelines last year. And if Merriman is slow to recover or suffers a setback, first round pick Larry English will take his place after excelling as a pass rusher at Northern Illinois.