Ryan, Crowder intensify Dolphins-Jets rivalry with trash talking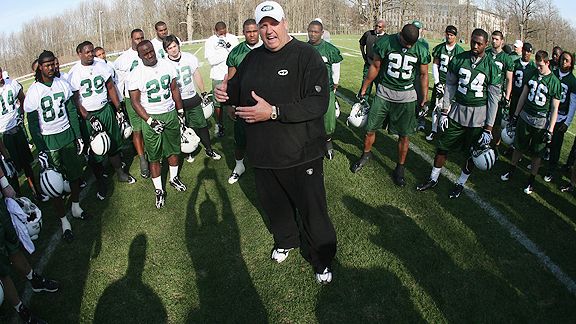 Who would have thought that Rex Ryan and Channing Crowder would make for great NFL news in June?
Tuesday night, after Dolphins linebacker Channing Crowder first learned about Jets coach Rex Ryan's unsolicited response earlier in the day regarding comments Crowder made this weekend, the talkative defensive leader returned another round of his own jabs.

But before we get to Crowder's latest rebuttal (it's worth the wait), we should first get you up to date on the unprompted comments Ryan made during a news conference earlier in the day when he made it clear he didn't appreciate Crowder calling out the Jets for getting ahead of themselves in June.

"I don't know this Channing Crowder," said Ryan, the Jets' first-year head coach. "All I know is that he's all tatted up, so I guess I ought to be nervous about him. The other thing is I think he's wrong because I do think you win in June. I think you win with your preparation and all that kind of stuff. If I was younger, I'd probably handle him myself."

So yes, it's June. And yes, a linebacker and a head coach from rival teams are talking trash. This might be the football equivalent of Christmas in July – and it only gets better. Reached on his cellphone Tuesday, Crowder responded to Ryan's comments with this:

"Oh, Lord have mercy," Crowder said Tuesday. "What's wrong with him? Now he's talking about preparation? We play them twice this year. If he wants to be prepared, shouldn't he know the starting middle linebackers of his division rival?"

As for the notion that Ryan would "handle him myself" if he was "younger," Crowder begs to differ.
"He says he'd take care of me if he was younger?" Crowder said. "I'd have beat the hell out of that big old joker. Or if he really wants to get retro, my daddy or my uncle could have handled him. Don't get big. Win with preparation? Start watching some tape and learn who your rival is. Come on now."
As a writer, I'm probably inclined to say that Ryan should act more like a coach and not engage with players on other teams. But I've got to admit – I'm digging this.
The Jets need a shot of life after the days of Eric Mangini trying to do his best show-no-emotion Bill Belichick impersonation (which he's moved now moved to Cleveland) and Ryan is giving it to them. I would have to imagine that players in this generation like the fact that their coach is willing to get into it with a mouthy opponent and maybe Ryan is starting to earn his player's respect. (Albeit it in a backwards kind of way.)
Can't wait for Ryan v. Crowder III.