Carlos Zambrano: 'I'm done in five years.'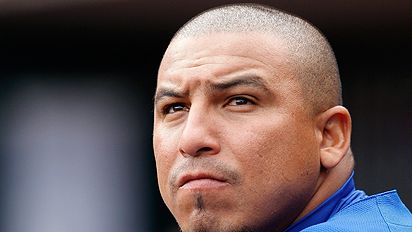 After earning his 100th career victory on Friday in a win over the Reds, Cubs starter Carlos Zambrano was asked by reporters if he has visions of winning 300 games a la Randy Johnson. Instead of giving a clichéd response of, "We'll see" or "I don't think about that stuff," Big Z dropped a bombshell that he's walking away from baseball once his contract expires in five years.
"For 300, me? No, I'll be out of here in five years," said Zambrano, who is three years younger than Johnson was when the Big Unit won his 100th.

After his response drew laughter, Zambrano added, "No, believe me. After this contract I'm done. … I'm serious. Because I don't want to play anymore."

Zambrano will be 32 when his five-year, $91.5 million contract expires after the 2012 season — 33, assuming a sixth-year, vesting option is reached.

After accepting a $100 bet from a beat writer that he was serious, Zambrano elaborated:

"I want to help this team and do everything possible to win with this team. After five years, or four years, or whatever it is, that's it. I just don't want to play. I want to stay at home and see my daughter grow up and be with my family more.

"You know how many Mother's Days I haven't spent with my mother? Twelve. You know how many things I lose in my life [because of the baseball schedule]?

"It's good to be here, also it's good to be in baseball. But in five years I will retire, and I won't have to see you again."
While his comments might come off as a little shocking to some, what Zambrano said shouldn't be taken out of context. Sure the, "I don't want to play anymore" might be a little unnerving for Cubs fans, you take everything he said into account and look at the big picture.
Zambrano is essentially saying that there is more to life than just baseball and once he fulfills his comment to the Cubs, then he's walking away. He wants to enjoy other aspects of his life that he's had to push to the side in the past because of the demands of baseball. There's certainly nothing wrong with that and I think his comments are kind of endearing in a way.
Zambrano is a competitor – he's not going to just take a paycheck over the next five years until his contract expires and then walk away. He wants to win and while he's still playing, he's going to do everything possible to help the Cubs succeed. But like he said, once his contract is up, it's up and he's done. And while he comments were a little out of the norm, I don't find anything controversial with what Big Z said.