2009 College Football Picks & Predictions: Week 5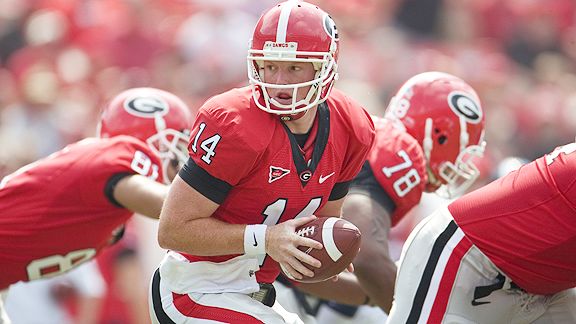 No. 4 LSU at No. 18 Georgia, 3:30PM ET
Last year, Georgia rolled into Tiger Stadium and laid a 52-38 beat down on LSU as they forced three turnovers and running back Knowshon Moreno (now a Denver Bronco) racked up 163 yards on 21 carries. After an ugly 24-10 loss to Oklahoma State in the opening week of the season, the Bulldogs have rattled off three straight wins and will now face a Tiger team that struggled a bit offensively last week in a narrow 30-26 win over Mississippi State. LSU was outgained 374-263 and only rushed for 30 yards in the victory. The Tigers usually feast on pro-style offenses, so UGA quarterback Joe Cox can't force throws in attempt to make something happen down field. That said, the Tigers haven't been tested yet and needed a goal line stand to pull off the win last week. Georgia, on the other hand, has already faced a ranked OK State team and beaten competitive SEC foes South Carolina and Arkansas. The Bulldogs are more battle tested and will overcome a stiff Tiger defense.
Odds: Georgia –3.
Prediction: Georgia 24, LSU 20.
No. 7 USC at No. 24 California, 8:00PM ET
Don't everyone break your legs jumping off the Cal bandwagon after Oregon smacked the Golden Bears 42-3 last week. Heisman candidate Jahvid Best rushed for only 55 yards in the loss and will face another tough challenge this week against a USC defense that held him to only 30 yards last season. The Trojans have the sixth best defense in the nation and the fifth best scoring defense. They have limited opponents to only 59.5 rushing yards per game and only 95 YPC threw the air. That said, Cal has played USC close over the years and the Trojans have kept things rather conservative offensively with freshman Matt Barkley under center. I see this game being close, although I don't know if Kevin Riley can beat USC through the air if the Trojans' front seven takes away Best.
Odds: USC –4.5.
Prediction: USC 20, Cal 17.