How a Packer fan copes with Brett Favre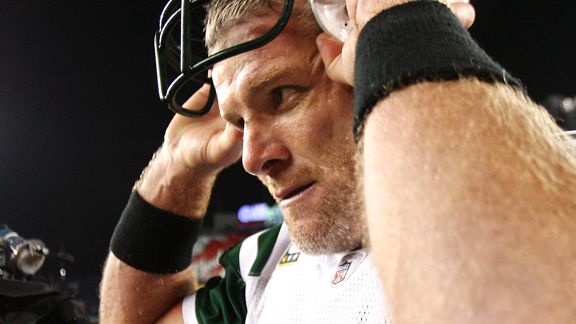 Back in 1969, Elisabeth Kübler-Ross introduced the five stages of grief: denial, anger, bargaining, depression and acceptance. As a long time Green Bay fan (starting with Packers teams that featured Lynn Dickey, Paul Ott Carruth, Eddie Lee Ivery and a host of other players with ridiculous-sounding games), I have firsthand experience with these five stages as I've dealt with Brett Favre and his annual retirement dance.
In the summer of 2008, when the news leaked that Favre was interested in unretiring, I argued that the Packers should bring him back. He was coming off a stellar season and I firmly believed that he gave Green Bay the best chance to win. At this point, I couldn't comprehend that the Packers would choose to move on without Favre and this denial quickly turned to anger as I saw just how entrenched management was in that decision.
But I wasn't aware of a crucial fact: Favre flirted with coming back earlier in the spring and then changed his mind when head coach Mike McCarthy and general manager Ted Thompson were prepared to fly to Mississippi to discuss it. At that point, I totally understood why the Packers said 'enough is enough' and made the decision to cut the cord once and for all. And I understand why Favre was upset that the organization didn't welcome him back with open arms. After all, he is one of the most iconic players ever to play in the NFL and has to have an ego to match. I figured that if he couldn't come back and play for the Packers, then he'd make the wise decision and hang 'em up, once and for all. This is the third stage of grief — bargaining.
Unfortunately, Favre's anger towards the Packers quickly turned to spite as he tried to maneuver his way into either Chicago or Minnesota, the Packers' two biggest rivals. It was obvious what was going on at the time — that Favre wanted to stick it to the Packers, specifically Ted Thompson, who made the final call (and was the one who drafted his successor) — and Favre confirmed this in a interview conducted a few months later. At this point, depression sunk in. I couldn't believe that Brett Favre — my all-time favorite player and the guy that I would schedule my Sundays around — would risk the goodwill of the Packer faithful just to get revenge on those whom he believed wronged him. This spiteful behavior was just sad.