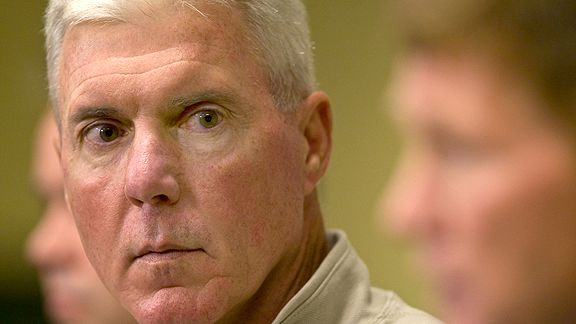 With the Green Bay Packers getting ready to face the Bears in the NFC Championship Game this weekend, it's a good time to stop and reflect on a franchise that was in a serious state of flux as recently as two-and-a-half years ago, when Aaron Rodgers took the reins from Brett Favre.
Ted Thompson is the man who made that call (and countless others) over the past six years, so he's ultimately responsible for the Packer roster as it stands. A roster that is playing very good football and has enough depth to withstand 15 players on injured reserve, including starters Jermichael Finley, Nick Barnett, Ryan Grant, Brandon Chillar and Mark Tauscher.
Let's go year-by-year and look at each draft, along with any major transaction that Thompson made.
2005
Thompson took over in January of 2005, with the Packers coming off a 10-6 season and a first round loss to the Vikings at Lambeau Field. Mike Sherman was stripped of his personnel duties, and Thompson was brought in to call the shots.
The 2005 season was a rough one. The Packers went 4-12. Favre tossed 29 interceptions and the Packers were 31st in turnover ratio. It was an excruciating season as Green Bay was just 1-5 in games decided by three points or less. Part of the problem was Thompson's unwillingness to pay free agent (and Pro Bowl) guards Marco Rivera and Mike Wahle. The O-line struggled, and so did the Packers.
Here's a look at that Thompson's '05 draft: (1) Aaron Rodgers, (2) Nick Collins, (2) Terrence Murphy, (4) Marviel Underwood, (4) Brady Poppinga, (5) Junius Coston, (5) Mike Hawkins, (6) Michael Montgomery, (6) Craig Bragg, (7) Kurt Campbell, (7) Will Whitticker
Note: Players in bold are starters. Players no longer with the team are in italics.
Of the 11 players selected in that draft, just three remain. But they're three good ones. Collins was named to his third consecutive Pro Bowl this season and if Rodgers isn't a top 5 QB, he will be soon. He also landed a starter-caliber LB (Poppinga) in the fourth. Thompson knew that he had to be patient with Rodgers, especially with Favre still on the roster and capable of MVP-type numbers. He passed on a player that could help immediately in order to draft the QB of the future, and he took some grief for it.
Obviously it worked out for the best.