Report: Favre to continue working out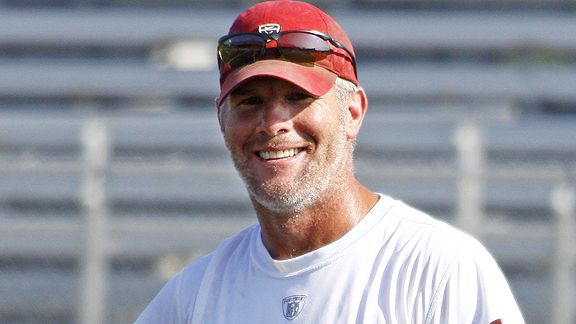 The NFL Network's Scott Hanson is reporting that Brett Favre will continue to throw and work out, despite telling Vikings head coach Brad Childress that he wants to stay retired and not play in 2009.
You've got to be kidding. Favre reportedly said he's still not totally sure about whether he'll stay retired or try to play, even after "confirming" he'd re-re-retire to Childress and in an ESPN interview. Asked by Steve Mariucci how he'd feel about his decision on Wednesday morning, Favre replied "I'm wondering that myself." It wouldn't shock us one bit if Favre "gets the itch" again and tries to come back late in camp or even after the season kicks off.
If I'm Childress and Favre calls me in a week saying that he's ready to come back, I tell him to piss off.
Brett will always be a NFL legend for what he did in Green Bay and I, as well as many other football fans, will always admire how he played the game with such passion, reckless abandon and determination. The guy was flat out fun to watch.
That said, news of him being unsure about his decision to stay retired shouldn't surprise anyone. Favre is more indecisive than a 15-year-old girl at the mall and I wouldn't be shocked if he changed his mind once every day until the start of the season.
He's just flat out incapable of making a decision without changing his mind 14 times.