Report: Braylon Edwards didn't throw punch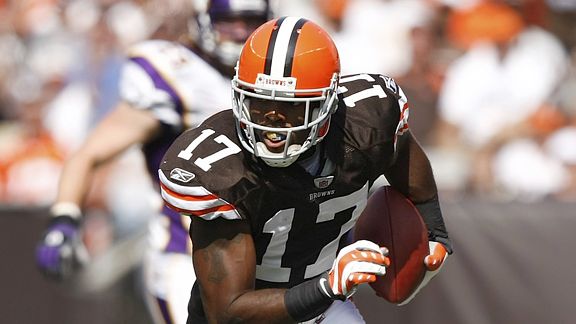 The Newark Star-Ledger reports that Braylon Edwards wasn't the person who threw the punch at Cleveland nightclub promoter Edward Givens in an incident that occurred early Monday morning.
Edwards appeared to reach a breaking point under the first-year Browns coach Eric Mangini. He has been fined several times by Mangini and is one of several players to have filed a grievance with the league over the fines handed down to players, according to someone with knowledge of the situation but who is not authorized to speak publicly on the issue.

Also, there's speculation that Edwards is the player who was fined $1,701 for drinking a bottle of water in his hotel room without paying for it.

As for the incident on Sunday, a member of Edwards' entourage — not him — threw the punch, according to someone with knowledge of the situation but who requested anonymity because he is not authorized to speak publicly about the incident.
Okay, so who's lying then? Givens said it was Edwards that specifically punched him. So unless it was a scrum and multiple punches were being thrown (which doesn't sound like it was the case), then it would have been easy for Givens to single out Edwards as the puncher.
That means either someone is covering up for Edwards or Givens is lying for whatever reason. (Maybe to make Edwards look bad since he's a friend of LeBron?)
Where are the Hardy Boys? We need a mystery solved…
Follow the Scores Report editors on Twitter @TheScoresReport. You can also follow TSR editor Gerardo Orlando @clevelandteams and @bullzeyedotcom, and you can follow TSR editor Anthony Stalter @AnthonyStalter.
Picture of the Day
Enjoy a daily photo from Bullz-Eye.com of one of their beautiful models.
Improve your game today!
You've got to brush up on your game to get the girl! Find your hookups with this online dating guide.
Sexy Girls and Cars
Check out this slideshow of hot babes and cool cars.
Posted in: NFL
Tags: Braylon Edwards, Braylon Edwards arrested, Braylon Edwards assault, Braylon Edwards assault charge, Braylon Edwards Browns, Braylon Edwards fight, Braylon Edwards Lebron fued, Braylon Edwards LeBron James, Braylon Edwards nightclub fight, Braylon Edwards vs Lebron, Braylon vs Lebron, Browns, Cleveland Browns