2009 NHL Preview: Boston Bruins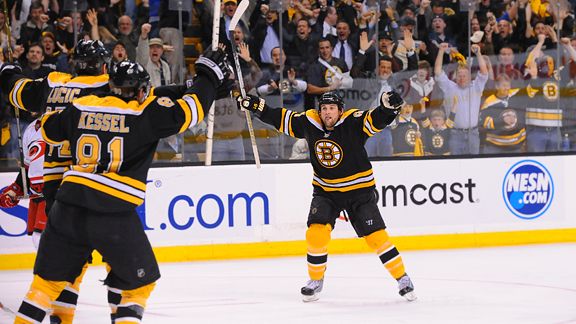 We've partnered with On Goal Analysis to bring you a team-by-team preview of the upcoming NHL season. (Just scroll down on the OGA website and hit the calendar.) Here is the preview for the Boston Bruins…
Team Play: ISSUE-Phil, we hardly knew ye. As the Bruins begin drifting back into The Hub to prepare for training camp, their leading goal scorer in 08-09, Phil Kessel, is missing. It seems that what young master Kessel thinks he's worth and what Bruins management can afford to pay him and maintain some salary cap sanity are quite far apart. Until Kessel is either signed or traded, Boston's forward lines will be in a state of flux. Even if the B's are able to sign Kessel, he could miss the first two months of the season as he continues to recover from shoulder surgery. Don't be surprised to see a top line of Lucic-Savard-Ryder come October, followed by Sturm-Bergeron-Kobasew, Wheeler-Krejci-Bitz, and Recchi-Begin-Thornton…and even without Kessel, don't be surprised if the B's have eight or nine 20+ goal scorers at the end of the season.
On the blueline, Norris Trophy winner Zdeno Chara returns to a unit unchanged but for the departure of Aaron Ward and arrival of Derek Morris. For the B's purposes, this is an improvement: Expect a little more offense out of the defense in 09-10.
In goal, Vezina Trophy winner Tim Thomas rules the roost, but backup Manny Fernandez will be replaced by Tuukka Rask. With a compressed schedule (due to the Olympics), expect Rask to see around 30 starts this season.
Click here to read the rest of the preview (which includes the site's unique Playoff Qualifying Curve and fantasy information) at the On Goal Analysis site.