Which coach didn't vote for Tim Tebow as All-SEC quarterback?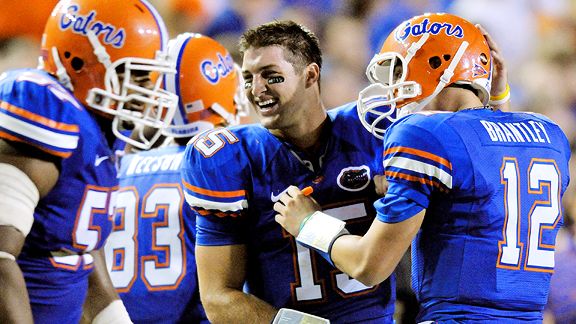 The SEC recently released its preseason coaches All-SEC team and unsurprisingly, Florida's Tim Tebow was everyone's choice as first team quarterback.
Well, not everyone's choice apparently.
Only three players were unanimous choices on the first team: LSU offensive lineman Ciron Black, Tennessee defensive back Eric Berry and Alabama wide receiver Julio Jones. Tebow, the 2007 Heisman Trophy winner who led the Gators to a national championship in 2008, was not a unanimous choice.
Coaches weren't allowed to vote for their own players, so a unanimous pick got 11 of 12 votes. Tebow got 10 of 12 votes, which means one of the SEC coaches doesn't think that he'll be the best quarterback in the conference this season. But which coach that was is uncertain.
Of all the quarterbacks in the SEC, the only one who might draw a vote away from Tebow is Ole Miss' signal caller Jevan Snead. But if the Rebels' Houston Nutt couldn't vote for him, then who did?
If we could hold a blame storming session for a second, I'd like to blame either Lane Kiffin or Bobby Petrino – Kiffin because he's proven to be a pimple on every SEC coaches' ass since becoming head coach at Tennessee, and Petrino because he's essentially the Hans Gruber of the college football world.
Not that this is a huge deal because after all, it's just a preseason All-SEC team. But any time we get the opportunity to throw Petrino under the bus for something, it must be fully taken advantage of.