Blogging the Bloggers: Tony La Russa vs. Twitter, Danica on cheating & more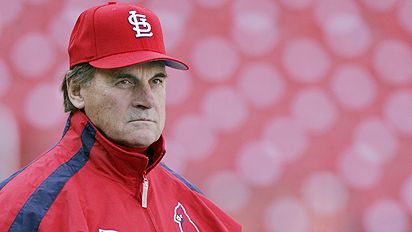 – SPORTSbyBROOKS fills us in on the story of Tony La Russa suing Twitter. Apparently the Cardinals manager doesn't appreciate fake Twitter profiles that talk about his past DUI charge.
– DEADSPIN breaks down Texas reliever Austin Wood's recent amazing (or not so amazing?) feat in which he threw 169 pitches in a seven-hour regional game last weekend.
– AWFUL ANNOUNCING says that Tony Kornheiser likes to think that people liked him on Monday Night Football.
– FANSIDED details the ways of how to be successful as a start-up sports blogger. (Maybe John and I should read it, although I am happy to report that TSR is mentioned in the peace.)
– WITH LEATHER shares the news that Danica Patrick would have taken performance-enhancing drugs to win the Indy 500 if she knew she wouldn't be caught. Apparently to Danica, it's not cheating if you don't get caught.