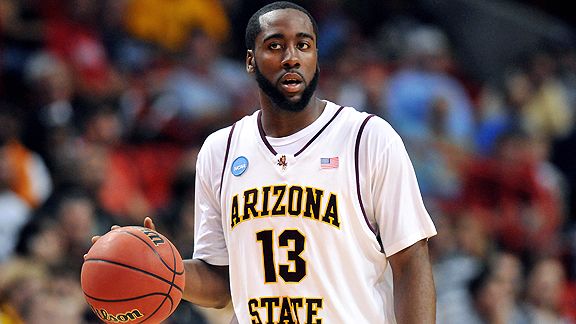 The NBA draft combine started yesterday and here are some of the rumors and observations coming out of Chicago (from Draft Express and ESPN's Chad Ford).
James Harden might go #3 to Oklahoma City or #5 to Washington. Sacramento #4 is a no-go because the Kings already have a star shooting guard in Kevin Martin.
James Harden for example has elected not to conduct any interviews with teams drafting outside the top five, canceling a scheduled interview at the Westin Hotel with the Cleveland Cavaliers for example. He also reportedly will not be conducting any competitive workouts with anyone anywhere in the draft process. A source close to him tells us he feels very good about the possibility of being selected by Oklahoma City or Washington, and for right now is not planning on visiting the Minnesota Timberwolves.

Most teams we've spoken to in Chicago are indicating that they believe Oklahoma City is indeed leaning towards picking Harden. They also believe the Thunder are not enamored with Rubio at all, as they are committed to developing Russell Westbrook at his natural position—point guard.
This seems high for Harden, who had a great season but completely disappeared in the NCAA tournament. He is a very skilled scorer and he should thrive if open shots are created for him by a playmaking teammate. I don't know how good he is at getting his own shot.