2009 NBA Preview: Southeast Division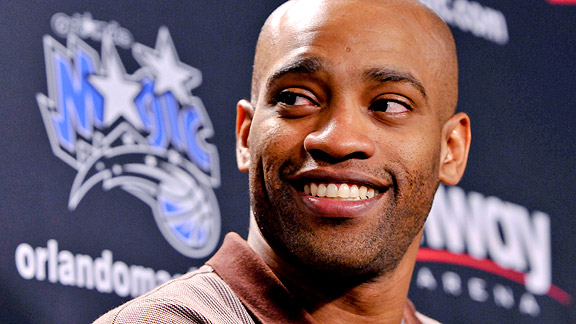 This year, we're doing a division-by-division preview with quick-hitting analysis for every team in the league. If a franchise is a legitimate championship contender, I'll focus on what stars have to line up for a title run. If a team is a playoff "also-ran," I'll identify the weaknesses that have to be shored up via trade, free agency or draft over the next couple of seasons to make it a contender. If a team is likely to miss the playoffs, I'll take a look at the salary cap, and provide a blueprint for how the team should proceed in the near future to get back in the postseason. At the end of each divisional preview, I'll provide some (random) thoughts for the fantasy hoopsters out there.
For each division, I'll pick the order of finish. You'll also see the team's league-wide preseason rank in parenthesis. Be sure to check back on Thursday for a preview of the Central Division and on Saturday for the Atlantic Division.
Orlando Magic (4)

The Magic were busy this summer, but did they get better? Only time will tell. Vince Carter, Brandon Bass and Jason Williams are in, and Hedo Turkoglu, Courtney Lee and Rafer Alston are out. Orlando fended off a strong run from the Mavs for the services of Marcin Gortat, and actually played Mark Cuban and Co. pretty well by stealing the up-and-coming Bass away in the process. It appears that Bass may start at power forward, which would move Rashard Lewis to small forward. Since the mismatches Lewis created at power forward were one of the Magic's strengths last season, this may not be written in stone. Orlando also has the option of starting Mickael Pietrus at small forward and moving Lewis back to PF. But the biggest change to the lineup is the loss of Turkoglu and the acquisition of the 32 year-old Vince Carter, who will likely take over Turkoglu's initiation of the offense. But keep in mind that the Magic made their playoff run without the services of All-Star point guard Jameer Nelson, and his return will be a significant boost to an already strong roster. The Magic didn't just tinker with their Finals roster from last year, they made a pretty major overhaul, so it will be interesting to see how this group gels. Stan Van Gundy is one of the best coaches in the NBA, and the regular season should provide plenty of time for the Magic to work the kinks out. A deep playoff run is likely.
Posted in: Fantasy Basketball, NBA
Tags: 2009 fantasy basketball, 2009 NBA preview, 2009 Southeast Division Preview, Atlanta Hawks, Atlanta Hawks preview, Charlotte Bobcats, Charlotte Bobcats preview, Fantasy Basketball, Miami Heat, Miami Heat preview, NBA preview, Orlando Magic, Orlando Magic preview, Washington Wizards, Washington Wizards preview