Brandon Jacobs on Braylon Edwards: "I don't want him"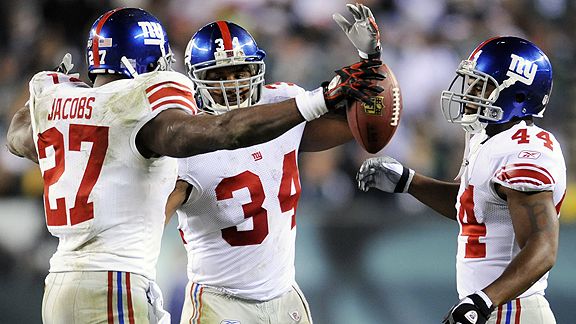 When asked recently about the idea of his team possibly adding wide receiver Braylon Edwards, Giants' running back Brandon Jacobs emphatically said: "no."
"I don't want him," Jacobs said yesterday on ESPN 1050 Radio. "There are great players in the league that I don't want. I just think the chemistry between the teammates that I have now is great. We don't need to add a new veteran to the whole group."
Jacobs also said no to trading for Anquan Boldin.

"I'm good with where we are," Jacobs said. "I'm glad that we didn't go forward and get [Edwards] or Boldin. Those guys are great guys [but] I'm not interested in that idea."
This shouldn't be taken as a knock to Edwards and Boldin because Jacobs is flat out saying that both players are great. This is more of Jacobs being a team leader and giving a boost to the players already on the Giants' roster. By saying that the Giants' are good as is, he's giving wide receiver teammates Steve Smith, Domenik Hixon, Mario Manningham, Sinorice Moss, David Tyree and rookies Hakeem Nicks and Ramses Barden encouragement that they can succeed next season.
If you're a Giants' receiver and you hear a captain like Jacobs say that the team doesn't need to add a great player like Boldin, then that should give you tremendous confidence.
Follow the Scores Report editors on Twitter @TheScoresReport. You can also follow TSR editor Gerardo Orlando @clevelandteams and @bullzeyedotcom, and you can follow TSR editor Anthony Stalter @AnthonyStalter.
Picture of the Day
Enjoy a daily photo from Bullz-Eye.com of one of their beautiful models.
Improve your game today!
You've got to brush up on your game to get the girl! Find your hookups with this online dating guide.
Sexy Girls and Cars
Check out this slideshow of hot babes and cool cars.