Derrek Lee injured during Cubs' celebration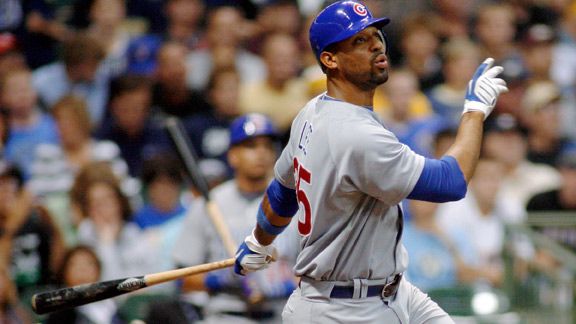 If this doesn't sum up the Cubs' 2009 season, I don't know what will.
While celebrating a come-from-behind, ninth-inning win over the San Francisco Giants on Thursday, the Chicago Cubs couldn't avoid yet another "Cubby Occurrence."

First baseman Derrek Lee scored the game-tying run ahead of Jeff Baker, whose two-out, two-strike home run off San Francisco closer Brian Wilson put the team in line for the win.

As Lee and Baker were mobbed by teammates in the dugout, relief pitcher Angel Guzman slapped the side of Lee's helmet, causing Lee to experience neck spasms that forced him to come out of the game for defense in the bottom of the ninth.
Manager Lou Piniella coined the term "Cubby Occurrence" to explain strange happenings that may have factored into the organization going more than 100 years without winning a World Series.
Even when the Cubs win, they still find a way to lose.
While we're somewhat on the subject, stick a fork in the Giants. They surprised a lot of people this year with the way they've played and their pitching staff is going to make them competitive every season.
But they had a golden opportunity last night to get within three games of the Rockies for the NL Wild Card lead and they couldn't even muster more than two runs at home to the Cubs. Playoff-caliber teams take advantage of opportunities when they present themselves and the Giants couldn't do that last night.