Bengals' first round pick Andre Smith breaks foot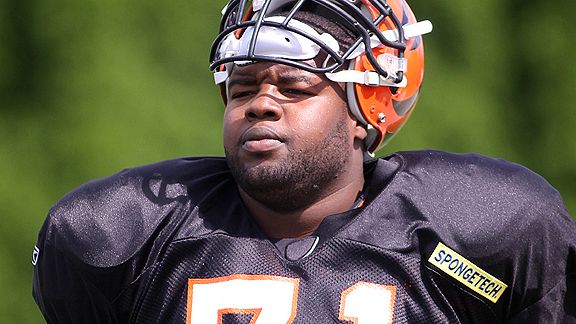 Andre Smith clearly wasn't in football shape when he signed his $42 million deal, because the first round pick fractured his foot in practice on Tuesday just 48 hours after signing his rookie contract.
In a statement released through the Bengals public relations department, Lewis said, "Andre suffered a small fracture in his left foot during a non-contact drill. Our medical staff tells me the injury will not require surgery. It's too soon to closely predict how long it will be before he can return to practice. But it looks like he's going to miss a few weeks."

"A few weeks" could mean anything. Cornerbacks David Jones and Morgan Trent suffered foot fractures during this preseason and their rehab took about five weeks. But Smith's may not be as long because both Jones and Trent had surgery.
This is yet another bump in the road for a player who was suspended for the 2009 Sugar Bowl, showed up to the NFL combine out of shape and then held out for the entire length of the Bengals' training camp.
Cincinnati's offensive line had question marks before Smith's injury, but the team was hoping that the sixth overall pick would eventually start at right tackle this season and anchor the line. That could still happen at some point, but there's no doubt that Smith's rookie season is off to a rough start.