Alex Rodiguez has torpedoed my fantasy draft strategy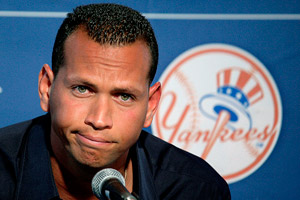 All 2009 Fantasy Articles | 2009 Position Rankings
The collective groan you heard when Alex Rodriguez announced that he would have "hybrid" surgery to repair his injured hip was not solely the work of the Yankee faithful. The ramifications in fantasy circles are staggering, especially if you, like me, happen to have the fifth pick in your draft.
Just a few days ago, I thought I had my draft strategy all figured out. The first round would simply be a matter of which of the Big Five (Hanley, Reyes, Pujols, A-Rod, Wright) fell to me. The mock drafts I conducted a few weeks ago indicated that Wright would be my guy, which was fine with me. The post-surgery view from the five-hole, however, is bleak. The Big Five is now the Big Four – Rodriguez is currently sitting at #49 in my draft room – and whichever player I take with my first pick now feels like a reach. However, after doing some stat sorting, I found my guy. He's a former MVP with pop and speed. So why don't I want to take him?
Read the rest after the jump...