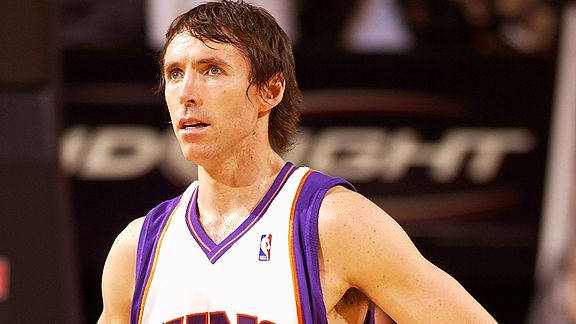 Two-time MVP Steve Nash has agreed to a two-year extension with the Phoenix Suns.
After receiving an improved offer last week and taking a few more days to deliberate, two-time NBA Most Valuable Player Steve Nash notified the Phoenix Suns over the weekend that he is accepting their two-year extension offer worth an estimated $22 million, according to team sources.

The Suns offered Nash a two-year, $20 million extension two weeks ago in addition to the $13.1 million he's owed next season, then bumped it higher in a meeting in Las Vegas last Wednesday attended by Suns owner Robert Sarver, president of basketball operations Steve Kerr and Nash's agent Bill Duffy.
When the Suns traded away Shaquille O'Neal, it seemed to indicate that the franchise was ready to start the rebuilding process. But with this extension, GM Steve Kerr appears to be building around Nash and, for the time being at least, Amare Stoudemire. I'm not sure what Kerr's long-term plan is, and I'm not confident that even he knows.