Athlete Profile: Darrius Heyward-Bey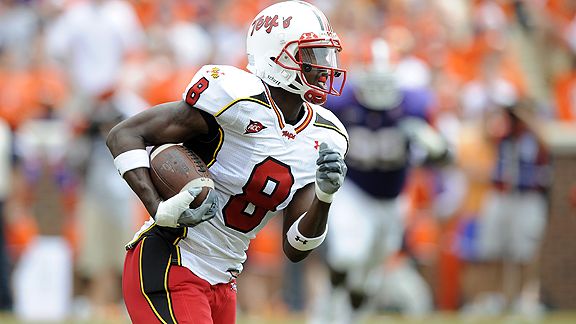 Take one look at Darrius Heyward-Bey and it's not hard to see why the University of Maryland prospect turns so many NFL scouts' heads.
A muscular 6'3", 206 pounds, Heyward-Bey has blazing speed. He ran the fastest 40-yard dash of any player at this year's NFL combine. Had he wanted to, coming out of high school he would have had a good chance at winning an NCAA championship and possibly even qualifying for the Olympics in track. Instead, Heyward-Bey turned his attention to burning rubber on the field.
Despite having to play in the Terrapins' struggling offense for three seasons, Heyward-Bey didn't take long to establish himself as one of college football's elite playmakers. Throughout his career, he turned out eight plays of 50 yards or more, scored 15 touchdowns (13 receiving, 2 rushing), and consistently averaged 15 yards per catch. He was able to do so all while being the only real offensive threat on a team that failed throughout his career to consistently move the ball.
The NFL is a league that values its playmakers. "Scoreboard changers," as analysts dub them, are always one play away from ripping off a big play for their team. Players like Reggie Bush, Devin Hester, Chris Johnson and Steve Smith are valued greatly for their game-breaking abilities with the football in their hands. Heyward-Bey is cut from the same cloth, with his eye-popping athleticism, and it's for this reason that NFL teams have stopped to take notice.
They've also noticed a few of his flaws, however. Heyward-Bey is not considered a consistent route runner at this point in his career, and he has frequently gone through slumps where he's had trouble catching the ball consistently. These are two very undesirable qualities for an NFL receiver, where speed and playmaking ability alone do not guarantee success (see: Peter Warrick).