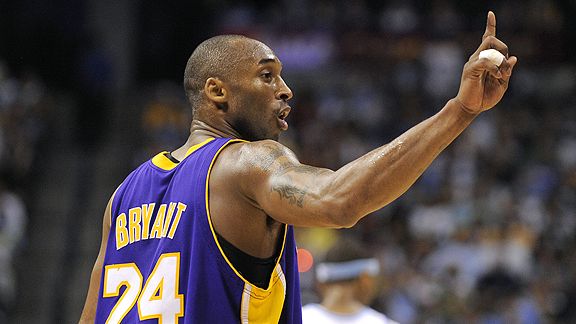 Bill Simmons previews the Finals by taking fake questions from well-known people. Here's a sample:
Q: Let's say I pull this off and we win a title. Does that push me past Oscar and Jerry and make me the third-greatest guard ever?
— K. Bryant, Los Angeles

SG: Yes. Absolutely. No question. Just know that your title window is closing because of your odometer — more than 1,100 games in 13 seasons and 203 games (not including the 2009 Finals) over the last 19 months alone — and a group of contenders that will be better next season with Garnett and Ginobili back, Portland and Chicago possibly making a leap, and Cleveland undoubtedly getting LeBron more help. You will never have a better chance at another ring than you do this month. And if you get it, your place in history is secure.

Let's say you don't get it. Let's say Orlando continues to ride the "Nobody believed in us!!!!" wave and topples your Lakers for its first title. Let's say the matchup troubles from the regular season (both Orlando wins) translate to the postseason just like they did in the Cleveland-Orlando series. That would mean the following things:

A. You never won a title when you were the best guy on your own team. An indisputable fact.

B. You lost not one, not two, but THREE Finals in which you were the best player on a favored team heading into the series: 2004 (versus Detroit), 2008 (versus Boston) and 2009 (versus Orlando). You played poorly by your standards in 2004 (23-4-3, 38 percent FG, 17 percent 3-point FG) and 2009 (26-5-5, 40.5 percent FG, 32 percent 3-point FG, 4.7 TOs); in deciding games those years, your team lost by 13 points and 39 points. If history repeats itself in 2009, you won't be able to recover historically. You'll be the guy who needed to ride Shaq's coattails to win a title, and that's that.

Honestly, this is one of the reasons I love basketball so much. Kevin Garnett's career was altered by the 2008 Finals in a good way. Karl Malone's career was altered in the 1997 and 1998 Finals in a bad way. Walt Frazier's career was altered in the 1970 Finals in a good way. Clyde Drexler's career was altered by the 1992 Finals in a bad way. You can come up with 25 superstars like that. A "fork in the road" moment, if you will. For Kobe, we're here. Officially.
That pretty much sums up Kobe's situation, though I'm not sure that a Finals loss would send him into a tailspin that he couldn't recover from. The Lakers will be good again next year.