Looking for QB help? Call on Shaun Hill.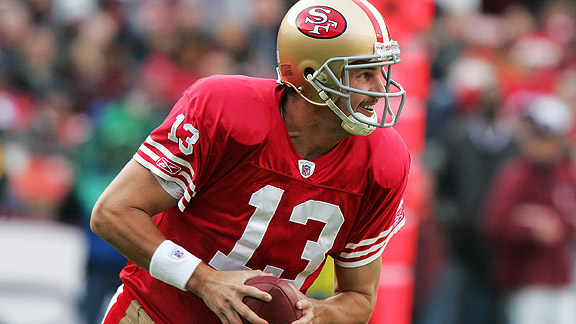 Shaun Hill recently beat out Alex Smith for the starting QB gig in San Francisco, but his Average Draft Position (ADP) hasn't risen all that much. He's still available in roughly 85% of ESPN's fantasy leagues, and is a nice pickup for fantasy owners looking to bolster their QB position.
Last season, he took over a 2-6 team in Week 10, and averaged 234 passing yards, 1.5 pass TD and 0.3 rush TD over the last eight games of the season. Subtracting interceptions (1.0 per game), this works out to about 19.1 fantasy points per game. Had Hill averaged these numbers over the course of an entire season, he would have finished as last year's QB6, ahead of Peyton Manning and Donovan McNabb. Moreover, he led the 49ers to a 5-3 record down the stretch, so he has proven that he can win games.