Texas thumps Oklahoma State, 41-14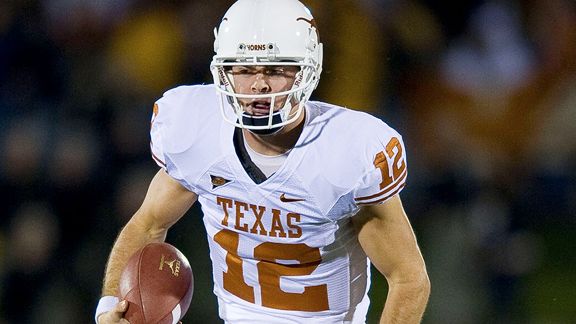 Many expected this game to be closer, but the Longhorns easily handled the Cowboys.
Curtis Brown and Earl Thomas each returned interceptions for touchdowns, and Cody Johnson had two short TD runs as the No. 3 Longhorns routed No. 13 Oklahoma State 41-14 on Saturday night to establish themselves as the clear frontrunner in the Big 12 South.

McCoy had an efficient 171-yard performance and threw his 100th career touchdown pass, and the Longhorns avoided the kind of letdown on Halloween weekend that cost them a chance to play for the Big 12 and national championships a year ago.

Texas (8-0, 5-0) came in with the nation's toughest defense against the run, then played havoc with Zac Robinson and the Oklahoma State (6-2, 3-1) passing attack. Robinson came in as the conference's top-rated passer after breaking the Cowboys' record for accuracy in a game last week, but threw a career-high four picks against the Longhorns.

Texas scored 28 points off of Oklahoma State's five turnovers, with Brown and Thomas cashing in immediately and Johnson scoring on runs of 2 and 1 yards after two other takeaways.
Let's see. Texas cruises by a talented opponent. In the meantime, USC is upset by Oregon, college football's dark horse. The Longhorns are looking better by the game, while USC is at a standstill. The Longhorns are obviously one of the best teams in the nation, but do they deserve to make the National Championship Game?
Maybe. As for USC, this day couldn't get any worse.