2009 CFB Preview: Florida Gators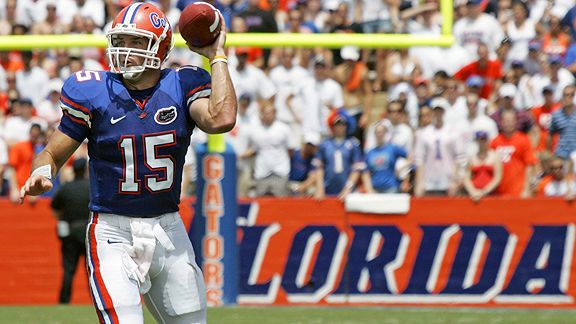 Check out our other 2009 college football previews.
Preseason Ranking: No. 1 in AP Top 25; No. 1 in USA Today Poll.
Key Returning Players: Tim Tebow (QB); Chris Rainey (RB); Riley Cooper (WR); Deonte Thompson (WR); Aaron Hernandez (TE); Maurkice Pouncey (C); Brandon Spikes (LB); A.J. Jones (LB); Ryan Stamper (RB); Carlos Dunlap (DE); Jermaine Cunningham (DE); Justin Trattou (DE); Ahmad Black (S); Joe Haden (CB); Janoris Jenkins (CB); Lawrence Marsh (DT); Terron Sanders (DT); Major Wright (S).
Key Losses: Percy Harvin (WR); Phil Trautwein (OT); Jason Watkins (OT); Louis Murphy (WR).
Player to Watch: Tim Tebow, QB.
With all due respect to Oklahoma's Sam Bradford and Texas's Colt McCoy, Tebow is arguably the best player in college football. Not the best quarterback – the best player, period. Urban Meyer says that Florida will incorporate the no-huddle into their offense this season, which should only play into Tebow's strengths, as he can beat opponents with either his arm or his legs. After throwing for 2,746 yards, rushing for 673 yards and totaling 42 touchdowns, Tebow returns for his senior season in hopes of leading Florida to its third national title in the last four seasons. And after compiling one of the most impressive second halves of any player in college football last year, there might not be anything that stands in Tebow's (and Florida's) way this season.
Follow the Scores Report editors on Twitter @TheScoresReport. You can also follow TSR editor Gerardo Orlando @clevelandteams and @bullzeyedotcom, and you can follow TSR editor Anthony Stalter @AnthonyStalter.
Picture of the Day
Enjoy a daily photo from Bullz-Eye.com of one of their beautiful models.
Improve your game today!
You've got to brush up on your game to get the girl! Find your hookups with this online dating guide.
Sexy Girls and Cars
Check out this slideshow of hot babes and cool cars.
Posted in: College Football
Tags: 2009 College Football predictions, 2009 College Football Preview, 2009 College Football rankings, Brandon Spikes, Carlos Dunlap, college football predictions 2009, College Football Preview 2009, College Football Rankings 2009, Florida, Florida 2009 Season Preview, Florida Gators, Major Wright, Riley Cooper, Tim Tebow