Russell Wilson can vault to top of Heisman lists tonight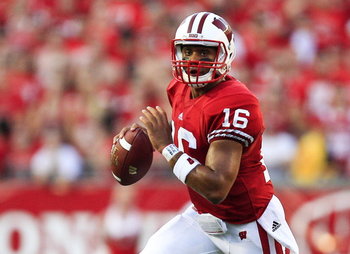 Russell Wilson is not unknown to Heisman voters. Three (I, II, III) of the major "Heisman Watch" lists have him in, or around, the top five.
That's probably a good spot for the Wisconsin quarterback, who has been great early on, but against suspect competition.
Through four games, Wilson — who spent his first three seasons at NC State before taking advantage of the NCAA's graduate-level transfer rule — has completed 75.8% of his passes for 1,136 yards and 11 touchdowns, while throwing just one interception. He's leading a Wisconsin offense that's sixth in the nation scoring 48.5 points per game, and he's done this while the Badgers have taken their foot off the gas pedal late in games thanks to huge leads.
Tonight, Wilson and Wisconsin play Nebraska in their Big Ten opener, and with a great performance, Wilson could find himself near, if not at the top of those lists. Nebraska is a big-time, storied program that has long been known for its defensive prowess. Even if the Huskers finish the season around where they are in scoring defense (46th at 22 points per game), putting up big numbers against them is going to cause voters' eyes to light up.
It's also the weekend's showcase game, as it will be on ABC at 8 p.m. (EST). If Alabama does to Florida what I'm expecting it to, most of the country's eyes will be on this game and this game alone. That's the perfect storm for Wilson's Heisman campaign. Of course it could also work against him. If Wilson has a bad game in a loss, it will be remembered by voters into December. If his running back Montee Ball goes nuts — which he is certainly capable of — voters might question the importance Wilson to the Badgers.
That's not going to happen, though. Expect Wilson to be let loose, both through the air and with his feet, and expect to wake up Sunday hearing his name mentioned with "Heisman frontrunner" attached to it.